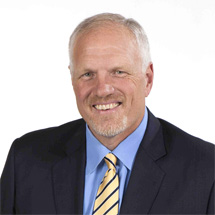 Mark Eaton
NBA All Star & Team Building Expert
X
Program Descriptions
The Four Commitments of a Winning Team
If you want to lead your team to greater heights in performance and achievement, you need to hear Mark Eaton's story. In this high-energy, insightful presentation, Mark shares how he rose from auto mechanic to NBA All-Star and, after twelve amazing years with the Utah Jazz, reinvented himself and became a business leader, entrepreneur, radio and TV personality and subject of a soon-to-be released film.

You'll experience the excitement and drama of how he challenged himself and his beliefs and found the courage to keep going and achieve success beyond anything he thought possible. You'll get the inside story on what it takes to win, and discover how to turn your people into top performers by applying the concepts that create sports superstars to the world of business. Mark gives you proven strategies and powerful, actionable ideas you can use immediately to create breakthroughs in your workplace and inspire your team to start playing a bigger game.

Imagine the value as you discover:
What it takes to consistently play at the top of your game
How to build the trust and loyalty
The secret to establishing an inspiring, energizing and harmonious work environment

The Four Commitments of a Winning Sales Team
Discover the secret of being the go-to player on your customer's team. In this exhilarating, interactive program, Mark will take you beyond the known and familiar to uncover your ability to earn your customer's confidence … and business!

You'll engage in challenging, high-level conversations that will empower you to:
Find out exactly what your customers REALLY want from you
Identify the one thing that will make you outstanding
Discover the secret to enduring and profitable relationships
Create an environment of generosity, commitment and possibility… where sales soar

You won't want to miss this opportunity to get these essential concepts and strategies that you can use right now to achieve the kind of success you've only dreamed of!
Mark is a team building expert who shares with organizations and audiences nationwide, how he went from a 7'4″ 21 year old mechanic who couldn't play basketball to a 12 year career as an NBA All-Star with the Utah Jazz.

He reveals the secrets that skyrocketed him to fame as the Two-Time Defensive Player of the Year, enabled him to break the NBA record for the most blocked shots in a single season and be selected to play in the 1989 All-Star Game.

After his career with the Jazz, Mark went on to success after success as an entrepreneur, TV and radio talk show host and world class speaker, trainer and coach.

Today Mark travels the country employing principles and coaching techniques from his 12 years playing professional basketball to teach industry leaders, teams and individuals how to outsmart, outlast and outperform their competition and achieve record-breaking success.