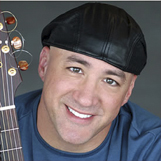 Mark Eddie
Comedy That Rocks
Traveling From
California
Why Book Mark Eddie?


Mark is a guitarist & comedian with a musician's view on everything from pop music to parenting.


His one-of-a-kind RockComedy show features songs, jokes, rock & roll history & spot-on singing impressions.
With a guitar, a remarkable singing voice and an infectious spirit, comic/singer/songwriter Mark Eddie fires out musical observations, songs, guitar rifts and musical impressions of artists such as Bob Dylan, Dave Matthews, John Mayer and Al Green to name just a few. From a true musician's point-of-view, he demonstrates the similarities between Heavy Metal and Polka music . . . Neil Diamond as a third-grade teacher . . . and speeding up Creed on a turntable. "It's either brilliant observation or way too much time on my hands", says Eddie.

Mark performed in bar-bands while attending college in Ohio. Soon after receiving his degree, Mark was touring coffeehouses and eventually opening for national acts like Jackson Browne, Melissa Etheridge and Toad the Wet Sprocket. Somewhere along the line Mark realized that adventures as a professional musician could be the basis for a kick-ass comedy show . "One day I just went from rock musician to rock comedian", he says.

Three comedy CD's later, Mark has garnered five nominations for the coveted NACA Entertainer of the Year Award. "I've officially become the Susan Lucci of that award", he jokes. Also in the works, a one-man play focusing on his personal struggle with "Type 1 Diabetes". Diagnosed at age 4 and an active diabetes advocate, Mark says, "we've got to find a cure . . . I don't wanna be the only guy whose VH-1 "Behind the Music" special ends in a tragic Snickers overdose!"