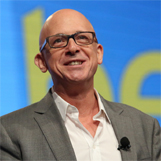 Mark Jeffries
Communications Consultant & Presentation Coach
Traveling From
Massachusetts
X
Program Descriptions
Host / Emcee
Keynote Speaking:
The Art of Business Influence
Communication techniques to build trust, success & connections

Communication expert, Mark Jeffries' message is a simple, yet vital one – communication excellence leads to increased connections, trust & success.

The best news of all – we don't have to do much to tilt the scales of perception in our favor – we just need to know how!

Mark presents a 'toolbox' packed with instantly useable techniques, ideas and methods designed to give you a smart, proven, communication-based approach to the challenges and opportunities you face every day.

His real-world, entertaining and common sense delivery – balanced with ready-to-apply ideas, memorable methods and valuable takeaways has impressed audiences around the world. Mark has now spoken in front of more than 100,000 people from a broad array of industries including IT, Aerospace, Marketing, Restaurants & Entertainment, Professional and Consulting Services, Healthcare, Pharmaceutical, Investment and Banking.


A Toolbox Of Techniques
From networking to negotiation, from the power of words to the behaviors of the 'trusted advisor', from reading signals to delivering positivity and from Secrets of the politicians to the psychology of becoming a problem solver, you will hear innovative thinking including:

-Optimize your message with The 3 Cs of Communication
-Networking 2.0
-The common-sense 'keys' to Influence
-Leveraging the practical world of Social Media
-Transforming your ideas and concepts into 'sticky and relevant messages'
-The Square of Influence – The L-WAR - Listen, Watch, Anticipate, React
-How to plant the seed of an idea
-Language – the power of words
-How to alter the way others perceive you
-The secret messages you really convey

E-learning

Being launched now is the perfect follow-up or, indeed, lead-in to Mark's compelling keynote – his all new e-learning course.

Instantly accessible online, Mark's key influence and communication messages, form part of a highly innovative piece of cloud-based training. From 1 – 10,000 of your people can now benefit from dozens of clips of Mark's speech, animated videos, smart ideas, practical motivation, tests and quizzes and it can all be tracked, measured and monitored by you on a user by user basis.

Who is it for?

This presentation is truly universal and has already proven a big hit with Senior Executives, New York and Tokyo lawyers, accountants, marketing and sales teams, Audit consultants, Managers, Advertising executives, IT users, IT Developers, pharmaceutical sales teams and politicians.

As Mark will create an independent and unique presentation from his core keynote for every different client, you can guarantee a session that will feel absolutely dedicated to your people, targets and objectives.
Why Book Mark Jeffries?


He shows people how to grow effective influence, achieve communication excellence and to master sales.
He teaches audiences communication techniques that build trust, success, and connections
As an economist, former stockbroker and TV host, Mark brings a wealth of knowledge and experience to the events he speaks at.
Former Merrill Lynch stockbroker turned author and Keynote Speaker, Mark Jeffries, has become a trusted adviser and communications consultant to some of the world's largest and most successful organizations. He speaks at and moderates conferences, summits, sales meetings, user forums and conventions all over the world for clients including IBM, Ernst & Young, SAS, HP, Zurich Insurance, Gartner, Microsoft, Royal Bank of Canada, Deltek & Bank of America.

With his depth of event experience, many of Mark's clients now also use him as an an event consultant, working alongside the production team to create an event with audience appeal, a memorable impact and an effective message.

Dividing his time between The United States, Canada and Europe, Mark's ideas, inspiration and guidance are sought across virtually all industries.