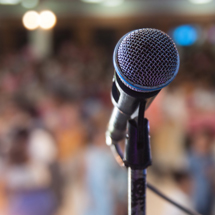 Mark McEwen
Author of After the Stroke: My Journey Back to Life
X
Program Descriptions
Life before and after a Massive Stroke
Being on the network and then anchoring in Orlando before being devastated by a stroke. Being in a coma and then having a year of rehab-five days a week, three hours a day. Learning to walk again, talk again, swallow again. How I went through that fire and came through the other side. Life AFTER stroke. Tony Bennett said everyone he knew that had a stroke went away. He told me I'm the only one he knew who came back. I'm back on television. THAT is a story unto itself.

Overcoming Obstacles in Life
John Lennon said that real life is what happens when you make other plans. Amen to that. You can't give up when Life throws you curves. Everyone has obstacles in their life, it's what you do with them. Don't give up is a good mantra. You can't take your ball and go home when adversity strikes, you have to fight back. You have to. I'm living proof of that. I'm right handed, I had to learn to do everything LEFT handed. My right hand still is weak and still shakes. Eat, drink, shave, write. People say they couldn't do that. I reply that you could if you had to. I even had to learn to throw left handed with my sons. Little triumphs become big ones…driving, taking a shower, going somewhere by yourself.

Changing your life.
Before my stroke, I knew nothing about one. Now I know enough to fill a room. A big room. I made some lifestyle changes…exercise. Exercise doesn't mean something as costly as joining a gym, although you can do that. It's more about moving, not being sedentary. I walk my dog @ two miles every day and longer sometimes. I always say that exercise, sweating, helps keep the wolves at bay.

Healthy eating. I eat more salads, fish, chicken, fruit, than ever. I haven't had fried chicken in so long that I can't remember the last time. Fried foods are a no no, I avoid them. Fast food is a no no. McDonalds, Taco Bell, Burger King and more, no nos. I didn't eat a lot of red meat before my stroke, I hardly eat it now. Moderation is a good word. If you told me I could never eat chocolate chip cookies again, I'd eat every one I could find. Now. I preach you can have your treats, just not every day. A good rule of thumb is if you can't remember the last time you had something, go ahead and have it. BUT, go back to the straight and narrow tomorrow.

Therapy
You have to be hard headed and not take no for an answer. Therapy is like putting money in the bank. The more you do it, the better it helps you. At first, there was so much to do that at times it overwhelmed me. I say if it does, don't do it that day, but get back to it the next day. I still read aloud. I still have balance issues but you learn to deal with this new life.
CBS journalist and popular television news personality, Mark McEwen served for many years in a variety of high profile positions, including anchoring "CBS This Morning" and serving as weather and entertainment reporter for "The Early Show." He was also a correspondent on the CBS News show, "48 Hours."

From "The Morning Program" to "CBS This Morning" to "The Early Show," Mark was a mainstay on the CBS early news since first joining the network in 1987. He anchored with a unique flair and snagged a Who's Who of big interviews. In 1995, Mark was named one of the country's "Ten Most Trusted News Personalities" in a TV Guide survey.

Mark has interviewed many prominent newsmakers, including five presidents--Bill Clinton, George H.W. Bush, Gerald Ford, Jimmy Carter and Richard Nixon. He also interviewed Steven Spielberg, Tom Cruise, John Travolta, Sidney Poitier, Paul McCartney, Jim Carrey, Garth Brooks, Whoopi Goldberg, Julia Roberts, Denzel Washington, Tom Hanks, Madonna, and Leonardo DiCaprio among others.

He has covered almost every imaginable television event including the Oscars, the Cannes Film Festival, the Golden Globe awards, the Grammy awards, and the Country Music Association awards.

He covered three Winter Olympics including Albertville, France and Lillehammer, Norway, and anchored the morning broadcast from Nagano, Japan during CBS Sports' coverage of the Olympic Winter Games. In Nagano, he also ran with the Olympic Torch. In 2000 Mark hosted 'TV Guide's Celebrity Dish'--a series of cooking specials featuring Whoopi Goldberg, Susan Lucci, Ed Bradley and Jane Seymour among others. From 1996-2002 Mark hosted 'Live By Request' on A & E. The Emmy award winning show featured guests such as David Bowie, Earth, Wind and Fire, Elton John, Tony Bennett, the Bee Gees, B. B. King and others.

In 2004 Mark became the anchor for the morning and noon news for WKMG in Orlando, Florida. In 2005 Mark suffered a stroke and has written a book, 'Change in the Weather' about that experience and his recovery. The book was nominated for the prestigious Books For a Better Life award.

Mark has served as ambassador for the American Heart Association's "Power To End Stroke" campaign and is an advocate for the cause. He has spoken at the International Stroke Conference and speaks around the country sharing his personal journey. In 2011 he was the host for the first annual RAISE awards (which recognize excellence in stroke awareness) for the National Stroke Association. He was the host for the second annual RAISE awards in 2012 as well. They have featured him as the cover story for Stroke Smart, the National Stroke magazine. He has also been on the cover of Heart Insight, the American Stroke Association's magazine.

He wrote, produced and was the host of "McEwen's Mark," an interview show that showcased human interest stories as well as the stories of the country's most successful business people.

He spoke in Alaska twice (Fairbanks and Anchorage) in February of 2014 for the American Stroke Association's Go Red For Women campaign.

In March of 2014 Mark began hosting "Positive Mark" on WKMG-TV. It showcases good news plus positive and inspirational stories.

He started a blog 'Mark McEwen's World', which can be seen at iammarkmcewen.blogspot.com, in October of 2014. Already it's been featured by AARP, National Stroke Association and American Heart Association.

In March of 2015 Mark was interviewed in a Harvard Medical School Special Health Report; Stroke: Diagnosing, treating and recovering from a "brain attack." His story begins the report.

He was born in San Antonio, Texas and raised in Berlin, Germany; Montgomery, Alabama; and Crownsville, Maryland. He attended the University of Maryland and now lives in Central Florida with his family.
Books

After the Stroke