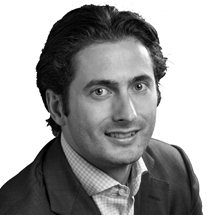 Mark van Rijmenam
Big Data Strategist & Datafloq Founder
X
Program Descriptions
Big Data is Dead, Long Live Big Data.
Last year, Gartner took Big Data out of the Hype Cycle for Emerging Technologies but that does not mean that Big Data is dead. On the contrary, Big Data has become more important than ever. New technologies enable organisations to do more with data than ever before and it is completely changing how we work and live. In this keynote , International Big Data Influencer Mark van Rijmenam will share with you three big data trends, including inspiring examples, that will dramatically change your business in the years to come and he will explain why Big Data is more important than ever.

The Future of The Internet of Things is Distributed
The Internet of Things is radically changing our society and with the emergence of Blockchain, it has become a whole lot interesting. With the Blockchain, connected devices suddenly can be used in completely new ways, thanks to the usage of smart contracts that can be deployed on a blockchain and that can automate many tasks. Devices can start negotiating with each other, they can start making micro - or even pico - payments for services used and thanks to smart contracts, agreement s are enforced automatically. Blockchain is revolutionizing the Internet of Things and in his keynote, Van Rijmenam will share insights how Blockchain will do so. He will provide best practices, examples and give you clear takeaways on how you can improve the Internet of Things using the Blockchain.

Building the Future; One Block at a Time
We live in a world of accelerated change and the 4 th Industrial Revolution is upon us. Disruptive Innovations such as Artificial Intelligence, Robotics, 3D Printing or VR/AR are being developed at an exponential pace. The common denominator of all these innovations? They produce data, lots of it, which can be used to create magical experien ces that were unthinkable before. Now it is time to use this data to create products and services that will change the way you work and live, while ensuring your privacy, information secure and allowing you to own your data. Let's build th is future together, one block at a time.
Mark van Rijmenam is Founder of Datafloq.com. Datafloq is the One-St op Source for Big Data, creating the Big Data ecosystem by connecting all stakeholders within the global Big Data market. Datafloq connects data and people. Visit Datafloq today to learn more about it.

He is an entrepreneur with a drive for (disruptive) innovation and to make a difference and inspire others. His objective is to be a catalyst for global innovation and to enable organizations and societies to tackle some of the world's biggest challenges. He is named a global top 10 Big Data influencer.

Van Rijmenam believes in sustainable, social and economic responsibility when doing business or creating companies. Let's use the latest trends such as Big Data, Robotics, Virtual reality, Artificial Intelligence, Nanotechnology or 3D printing to change and improve the world and create a better place for all. He is aware of the latest trends in the world that impact organisations.

Currently, he is a PhD Candidate at the University of Technology, Sydney. He has received two scholarships to do so. His research question is how organizations can use Big Data, Blockchain and Artificial Intelligence to remain competitive.

He is the author of the book "Think Bigger –Developing a Successful Big Data Strategy for Your Business," which was published globally as of April 2014. The book will be available in Chinese in 2016. He is a frequent blogger on Datafloq.com as well as on other platforms around the web.

He is a highly sought-after international keynote speaker on big data and disruptive innovation. He has given lectures at the Business University Nyenrode and has spoken in Australia, France, China, United Kingdom, Germany, Belgium, South Africa, Colombia, United States, Dubai and The Netherlands among others. He is founding partner of think tank The Digital Leadership Initiative in Sydney.