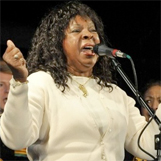 Martha Reeves
Motown Music Great
X
Program Descriptions
Motown musical entertainment
Martha Reeves was born in Eufaula, Alabama. Her parents Ruby and Elijah Reeves moved to Detroit, Michigan before her first birthday. Martha's mother has been her greatest inspiration and teacher. Ruby and Elijah both sing and play the guitar solely for the family's delight and pleasure. Raised on the east side, she attended Russell Elementary and was taught vocals by Mrs. Emily Wagstaff. Northeastern High School was where she studied voice under the direction of Abraham Silver who also coached Florence Ballard, Mary Wilson of the Supremes and Bobby Rogers of the Miracles who also became world renowned at Motown Records.

Reeves went to work at Motown Records in Detroit, Michigan, without much thought of becoming a singer. Rather, she served as a secretary for the company shortly after she left high school. She occasionally sang lyrics onto demonstration tapes to enable Motown's artists to learn new songs, and when one of the company's regular studio back-up singers was too ill to participate in a recording session, Reeves was allowed to take her place. From there it was only a short step to becoming a regular Motown background vocalist; with Rosalind Ashford and Annette Sterling, who had attended high school with her, Reeves contributed her talents to the records of Marvin Gaye and other Motown proteges.

By 1963, the Motown executives felt that Reeves, Ashford, and Sterling had enough talent to form their own group, particularly with Reeves's strong voice on lead vocals. The women were signed to the Gordy label, a Motown subsidiary, and quickly released the hit single "Come and Get These Memories," which was soon followed by an even bigger smash, "Heat Wave." Though she hadn't aimed for that kind of success, Reeves told Ebony: "I sang because it made me happy and helped me to help my family. It allowed me to develop from a little girl in the ghetto to someone who could pay my bills."

After "Heat Wave," Sterling quit the Vandellas and was replaced by Betty Kelly. This personnel change failed to have much impact on the trio's hitmaking ability; with 1964's "Dancing in the Street," Martha and the Vandellas continued to trademark the rougher, more raucous rhythm and blues sound that distinguished them from the Supremes and other Motown female groups. According to Geoffrey Stokes in Rock of Ages: The Rolling Stone History of Rock and Roll, "Dancing in the Street'"s catchy beat was produced, in part at least, by one of the producers banging on the floor with some snow chains from an automobile.

Hits like "Nowhere to Run," "I'm Ready for Love," and "Honey Chile" took Reeves and the Vandellas through to the late 1960s. Kelly was replaced by Reeves's sister Lois in 1968, but the following year saw Reeves sidelined by illness. When the group reformed in 1970, it was composed of Martha and Lois Reeves and another woman named Sandra Tilley. Though this set of Vandellas scored some minor hits on the rhythm and blues charts, including "Bless You," "I Gotta Let You Go," and "Tear It on Down" during the early 1970s, they could not match the success of Reeves's earlier years. She obtained her release from Motown, and broke up the Vandellas in 1972.

Martha currently resides with her son Eric in Detroit where it all began, after living twelve years in Los Angeles. Since Motown records, she has had solo albums between her live performances all over the world. Richard Perry of Planet Records produced the first one in 1973 on MCA Records Arista released "The Rest of My Life", an album with various producers. In 1979, Fantasy Records released "We Meet Again" and in 1981 "Gotta' Keep Moving."

Reeves continues to tour England and tours the United States with other Motown stars. Commenting on one such excursion in July, 1987, she announced to Ebony: "It was fantastic. I am very proud that after all these years, we could still produce the quality of sound and remember all the things we were taught--the things that still make us happen." And, apparently, she no longer needs back-up singers. "Now that everybody knows the music, the people in the audience are the Vandellas....."