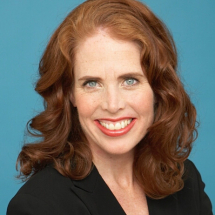 Meg Soper
O.R. Nurse to Motivational Humorist & Stand Up Comedian
X
Program Descriptions
Wit, Fit and Balance … Strategies for Success

This is a high energy and interactive presentation that sheds a humorous light on the stresses of everyday life. It offers a lighthearted look at how we can shift our perspective to be more in control of our thoughts and emotions. The powerful theme woven throughout the presentation is that we are in charge of the energy we bring with us in dealing with life's challenges.

Get Connected and Stay Plugged In

This presentation brings laughter and energy from audience interaction to the topic of conflict management and dealing with different personalities in the workplace. In this highly engaging session people gain a better understanding of each other's challenges and unique qualities, helping to enhance relationships both at work and at home

Bring It On … Strategies to Create a Positive Workplace

In this high energy and interactive presentation, Meg examines how emotions, perceptions, and preconceived ideas can impact our day-to-day interactions with others – especially across the generations. Understanding generational differences helps us create an atmosphere where we can communicate more effectively and maintain a positive workplace environment.

Humor Is One Size Fits All

Whether you're facing the perils of middle age or juggling a career and family, Meg will help you find a laugh along the way. Run some of Meg's pithy, stress-relieving ideas up the flagpole and learn to embrace her philosophy that "life is too short to stuff a mushroom".
Why Book Meg Soper?


Meg Soper is a leading motivational humorist speaker for organizations in North America.


She has a unique perspective, combining the insights and experiences of her last thirty years spent as a Registered Nurse, stand-up comedian, and ultimately a motivational speaker.


Meg's emergence as a workplace motivational speaker was inspired by her ability to make people laugh. She saw how laughter could alter attitudes and help people cope in difficult situations. Out of the pressure-packed environment of the hospital operating room and balancing two careers, Meg realized humor is extremely effective for dealing with stress and managing change.
Meg Soper is a keynote motivational humourist speaker who combines the skills of a premiere stand-up comic with the hands on experience in health care to provide motivational, inspirational entertainment for her audiences. Her experience as a stand up comic, operating room nurse and mother of two teenagers enable her to deliver a unique package of humorous anecdotes, and stress busting strategies for everyday living. Meg's emergence as a business related motivational humourist was inspired by her belief that laughter is one of the most effective ways to deal with the day to day stress in our lives. Her comedic skills enable her, as a leading motivator, to connect with the audience, break barriers and deliver practical tools and strategies to be more effective at work and at home.

As a motivational humorist speaker, Meg offers strategies for life balance and improved communication with the knock out punch of comedy. While Meg's emergence as a premiere motivational humourist was influenced by her ability to make people laugh, it was working in the pressurized environment of hospital operating rooms that she realized how humour could help people better communicate and deal with stressful situations.

As a motivational business speaker, Meg has a keen eye for dealing with the roadblocks that we encounter on a daily basis. She is able to motivate people to develop new ways of looking at the options that life presents. In this way, Meg enables the innate talents within everyone for making those choices that will move us along the path to productive and balanced living.

Her unique blend of comedy and inspirational stories provides "humour with a heart". This sets her apart from other motivational speakers in Ontario and Canada. These presentations are filled with laughter, life lessons and stress reducing strategies that motivate personal improvement. During her many years as a stand up comic, Meg learned to recognize the very strong connection between laughter and attitude. The energy she derived as a humorist told her that there was a physiology to laughter. Now speaking as a motivational humorist to audiences using "humour with a heart" she is able to connect with people, motivate them and leave them feeling uplifted and energized.

Meg Soper provides business-related motivational humour and entertainment to audiences throughout Canada and North America. She lives in Oakville Ontario with her husband and two teenaged children and continues to work on a casual basis at the hospital in the Operating Room when she is not on the road travelling with her speaking career.