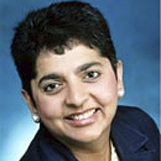 Merge Gupta-Sunderji
Leadership & Workplace Communication Expert
Traveling From
Alberta, Canada
X
Program Descriptions
Why Does the Lobster Cast Off Its Shell?
This intriguing title actually has a very simple answer: to grow! But for a lobster, the task is not as easy as one might think! Unknown to most, the lobster goes through periods of extreme vulnerability and risk in order to develop and evolve … and so too it can be with people and organizations. And in today's new economic reality, as leaders across the country are facing new challenges … and new opportunities … this message is more relevant than ever. Resources are fewer, nevertheless you're being asked to accomplish more tasks, give greater levels of customer service, and achieve improved results. Yet if you can step back from the day-to-day and focus on the bigger picture, the possibilities hold enormous potential. You already know the importance of stretching and pushing yourself beyond the obvious in order to be successful, but it takes skill and perspective to position for the future! In this powerful and engaging keynote, Merge will teach you six hands-on practical strategies to help you become a lobster – to consciously push the limits of your comfort zone so that you look past the here-and-now, so that you continue to grow and thrive, and position yourself and your organization for long-term and sustainable success.

Turning Managers Into Leaders – Six Essential Elements of the Leadership Journey
Successful leaders know that there is an enormous difference between managing and leading! Success in leadership is measured not by what you do, but rather by the impact you have on others. Ultimately: management is about getting things done, leadership is about getting other people to get things done. So what exactly are these elusive factors that separate the manager from the leader? Merge has crystallized these differences into what she calls the leadership mentality – six core values that ignite the spirits and minds of leaders and take them from average to exceptional! In this upbeat and fast-paced keynote, you'll discover surprisingly straightforward actions you can take that will make a dramatic impact to your leadership effectiveness – literally overnight. Through rich metaphors and real-life examples, Merge will leave you with six simple, yet incredibly powerful, traits to take you on your journey from manager … to leader.

Millennials Exposed! Insights into the Psyche of a New Generation of Workers
If you are a Baby Boomer or a Gen-X'er, then the Millennial generation has probably puzzled, bewildered, and perhaps even frustrated you. Smart, self-confident and savvy, these young people question everything, demand instant gratification, and are not accustomed to being denied what they desire. If you came before them, you likely believe in the "respect for elders" and "reward comes from effort" maxims, so their attitudes can be both exasperating and maddening. Yet, like it or not, numbering 68 million in the United States and 6.5 million in Canada, the Millennial demographic is a growing tsunami that is permanently changing the shoreline of workplaces across North America. In this content-rich and entertaining workshop, Merge outlines the factors that shaped this generation, what immense strengths they can bring to your organization, and perhaps most importantly, how you can tap into this motherlode of innovation and tenacity. The Millennials can take your organization to the next level of success IF you can figure out how to harness their potential!

Turtle Training for the Hare: Why Slow 'n' Steady Trumps Fast 'n' Furious
Whether you use the metaphor of the turtle vs. the hare or the sprinter vs. the long-distance runner (Merge uses both!), the underlying message is that building strength and sustainability in your people is what will give you long-term victory in lasting leadership. If your organization is going to be successful in today's highly competitive business world, then you need to look beyond just the day to day. Are your people marathoners who have the energy and endurance to go up hills and down valleys, or will they fizzle and sputter when the hurdles get higher? In a positive and entertaining look at growth and productivity, Merge offers you specific and practical ideas to build strength and sustainability in your employees and ultimately your organization.

High Heels That Click: Why Female Leadership Has Its Advantages
Beyond just the obvious, men and women really are different beings! Research clearly demonstrates that women view and respond differently to specific workplace situations than men do. And unfortunately, in the past, these differences were perceived by many as disadvantages in leadership and success. Get ready to explode that myth! In this entertaining, engaging, and sometimes tongue-in-cheek keynote, Merge outlines five significant traits that separate the women from the men, and shows how the things that set us apart as women actually set us ahead as leaders. Using colorful anecdotes and compelling metaphors, you'll see how what makes you distinct also makes you incomparable.
Merge Gupta-Sunderji turns managers into leaders. A professional speaker, author, radio commentator, facilitator and consultant since 1988, Merge gives people specific and practical tools to help them achieve leadership and communication success. Tens of thousands of managers in eight countries have participated in her engaging keynotes and facilitated workshops and obtained and practiced the tools to achieve leadership success. Merge's insights come from first-hand experience. As a leader at one of Canada's premier oil and gas companies for over fourteen years, and a Board leader at a Credit Union for three years, she offers a unique blend of realism and humor that consistently engages and entertains her audiences!

From the moment she steps on stage your audience will see, hear and know the difference. More than a motivator – Merge takes real-world research and makes it relevant to your organization, combines it with time-tested strategies and delivers the tools, solutions and mindsets your managers need for long-term leadership success. Her contagious enthusiasm turns even the most passive listeners into participants! If your people are tired of "fluff", then Merge represents the solid alternative: enduring and compelling content, delivered in an engaging style, tempered with humor and realism.

For almost two years, she was the well-known voice behind the national CBC radio column The Softer Side of Business heard coast to coast across Canada on CBC Radio One. She's an award-winning published author, writing for many well-known organizations and publications, including the very popular Merge's Monthly Mega Minute. The second edition of her book titled Why Does the Lobster Cast Off Its Shell? was published in July 2009. She writes a regular column called Further Than Figures in CGA Magazine, a professional accounting publication with a circulation of over 80,000. In addition, she has released an entire Leadership Series of educational audio CDs covering off specific challenges and issues of concern to leaders everywhere. The titles range from How to Effectively Manage Off-Site Employees to Overcoming Negativity in the Workplace to Managing Employees with Lousy Performances, Unacceptable Behavior or Rotten Attitudes. She is presently working on her latest book, Power Tools for Leaders: Practical Strategies and Tactics to Build People, a hands-on practical how-to guide for managers and supervisors.

Merge's client base is broad and varied including numerous professional associations, and mid- to large-sized corporations in the financial, energy and natural resources, and government sectors. You can access a partial list of her over 220 satisfied (and in most cases, repeat) clients here. Merge has also spoken on several occasions to audiences at Meeting Professionals International (MPI). With Meeting Planners International, Merge is one of only 43 people in North America to be recognized as a Platinum Series speaker.

Merge is a proud professional member of the Global Speakers Federation, and holds her Certified Speaking Professional (CSP) designation. The CSP designation is an international measure of speaking and platform excellence and is awarded only to those accomplished speakers who meet strict criteria and have a proven record of delivering client satisfaction. Less than 10% of the speakers who belong to the worldwide federation hold this professional designation. Merge also serves as an elected Director on the Board of the Canadian Association of Professional Speakers (CAPS).

Many people ask Merge what she used to do before she became a speaker, and the answer often surprises them. Merge is actually a professional accountant, and even though she hasn't formally practiced accounting for many years now, she still proudly carries her designation letters (CGA) after her name. As Merge sometimes laughs "You can get a girl out of accounting, but you can never really get the accounting of the girl!"