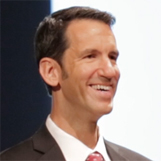 Michael Anderson
Developing Authentic Happiness In Leaders
Traveling From
California
X
Program Descriptions
Play BIG: How to Crush Procrastination, Embrace Change, and Live a BIG Life
Are you living up to your potential? Staring squarely at the challenges in your life?

Dealing with change—in your career, relationships, health or personal life—and shifting to new ways of thinking can be difficult. But the difference between changing and not changing is the difference between success and failure.

Play Big! Learn the secrets behind your procrastination and resistance to change. Discover how to overcome what's holding you back—and triumph in life.

Attendees will learn to:
Move from Procrastination to ACTION
Transform Anxiety into EXCITEMENT
Overcome Fear & embrace CONFIDENCE

We all have tremendous power inside us. This session is designed to you engage with your potential start sharing it with the world.

Conscious Capitalism, The Next Evolution of Business: How to outperform the market by a factor of 10.5 – by doing business the right way
Conscious Capitalism is the next evolution of business. It's a global movement started by John Mackey, CEO of Whole Foods, and member companies include Southwest Airlines and Costco.

This session teaches about the hot-topic movement along with how attendees can start implementing consciousness into their personal and business lives right away. This includes learning:


How conscious companies outperform the market by a factor of 10 to 1
The The four principles of Conscious Capitalism of Conscious Capitalism
A method for becoming a Conscious, Authentic leader themselves

The Authentic Leader: How Integrity and Alignment Create a Leader People Naturally Follow

Have you ever seen a leader whom people naturally follow?

Do you want to learn their secrets?

Authenticity through internal alignment and personal integrity give people the confidence to step up and lead in any situation. These traits are available to all of us; you simply have to recognize what you already have within you and learn to start trusting it.

Learn how a small shift in thinking can bring huge results.
Gain the TRUST & RESPECT of your team
Be POSITIVE & CONFIDENT in every situation, even difficult ones
Get PRODUCTIVITY & RESULTS with less effort

You'll learn a new, natural and easy way to carry yourself, one that draws people to your leadership and leads to higher performance—with less stress and anxiety.
Michael Anderson, M.B.A., M.A., founder of The Executive JOY Institute, specializes in leading competitive, driven people through the same transformation that he's been through, bringing joy and happiness into their lives.

By the age of thirty-five Michael had played professional basketball (yes, he's really six-foot nine!), founded three international software companies and partied at the Playboy Mansion—but he simply wasn't happy. Hard drugs, alcohol, a divorce and a nasty lawsuit brought him to a low point. A quest for change included earning a master's degree in Spiritual Psychology from the prestigious University of Santa Monica.

Michael has taught leaders around the world, from Panama to the Philippines to Australia and Mexico, and has worked with a broad range of clients, including Microsoft, SAP, Stanford University, Vistage, Young Presidents Organization (YPO) and Entrepreneurs Organization (EO).

Michael's Career Highlights
President, Board of Directors, Conscious Capitalism San Diego (2015)
Entrepreneur.com Contributor
Bestselling Author of The Experiment
Earned an International M.B.A. (including study in Budapest and London)
Holds a second Masters Degree in Spiritual Psychology
Played semi-professional basketball
CFO of an international medical company by age 25
Founded four successful companies since 2005, one with headquarters in Singapore
Has lived and worked in six different countries
His companies were on Inc. 500|5000 Fastest Growing Private Companies for two consecutive years
His companies frequented the San Diego Best Places to Work lists (#2 in 2012)
Twice nominated for Most Admired CEO in San Diego
Winner of Social Entrepreneur of the Year in San Diego Michael founded The Executive JOY Institute to teach others the same real-life tools he used to change his own life.Through speaking, writing, radio shows, and video blogs, he elevates competitive, driven people, teaching them to live happier, more authentic and fulfilled lives and showing them how to reduce stress, overcome self-limiting beliefs and improve relationships.

His book The Experiment: Discover a Revolutionary Way to Manage Stress and Achieve Work-Life Balance is an Amazon #1 Bestselling Book in the "Creativity" and "Business Leadership Training" categories.

What really makes his heart sing is spending time with the orphans of Baja, Mexico.
Books

The Experiment