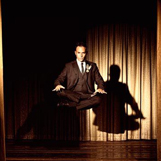 Michael Grasso
Illusionist of the Year
Traveling From
New Jersey
"The NEW King of Magic"

Deeply rooted, as well as greatly respected by his peers within the magic community, Michael Grasso is considered "A true MASTER of his ART!"

Michael recently was bestowed the prestigious title of : "ILLUSIONIST of the YEAR!" by the Society of American Magicians!

Crowned "The NEW "KING OF MAGIC" on NBC TV by HOWIE MANDEL!

"SIMPLY BRILLIANT" ~ Piers Morgan

"ABSOLUTELY SENSATIONAL!" ~ Sharon Osborne

Michael Grasso has spent his entire life honing his art and perfecting his craft. Appearing and disappearing at nightclubs in New York City ~ touring the country at casinos in Atlantic City to Las Vegas
to the NBA All-Star Game Halftime Show
to the Magic Castle in Hollywood, Ca
to large and small Corporate Events for Fortune 500 companies world-wide!

Michael has also been featured on TLC's "The History of Magic", the hit NBC series "Totally Hidden Extreme Magic" ~ on The ELLEN DEGENERES Show and was recently cheered by millions of viewers on NBC's America's Got Talent TV Show as well as the 28-city A.G.T. Theatrical Tour and became a YouTube fan favorite.

Michael performs unbelievable:
CLOSE UP MAGIC!
CABARET STYLE MAGI!
LARGE SCALE STAGE ILLUSIONS!

When Michael is not booked for private or corporate events around the globe, you can find him touring major USA cities in Theaters and Casinos!