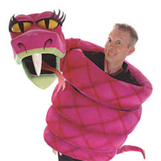 Michael Harrison
Comedy Ventriloquist, 2008 America's Got Talent Semi Finalist
Traveling From
British Columbia, Canada
Michael Harrison is an extraordinarily talented ventriloquist, puppeteer and comedian. He has worked along side numerous acts from The Muppets to Boyz to Men. He has also headlined for some of the world's most luxurious cruise lines including Princess, Norwegian, Royal Caribbean and Holland America. His many talents allow him to create performances for all type of audiences; adults, kids and family. Companies such as, Verizon Wireless and Sandals Resorts have booked his corporate comedy act. His family show is so finely tuned that Disney, the world's largest entertainment company, booked him for 8 consecutive years and over 1500 performances as the headline act for Disney Cruise Line.

In 2008 Michael took his talents to a new level when he appeared on the hugely successful television show, "America's Got Talent". He was the only ventriloquist to appear and compete for the grand prize of 1 million dollars and the opportunity to perform his show in Las Vegas. He finished in the top 50 as a semi-finalist and received glowing reviews from the celebrity judges.


"Your timing was impeccable and it was very, very, very entertaining. Congratulations, great job." -David Hasselhoff
You are what this show is all about, seeing things that are unique and different, things you can only see on this show and it's fantastic." -Sharon Osborne
"I was determined not to like you, but it was brilliant. I have never seen that happen with a ventriloquist, the audience loved you, we loved you and it was a great act." -Piers Morgan.
The judges auditioned a record 25,000 acts for the show, which averaged over 12 million viewers per episode for NBC.