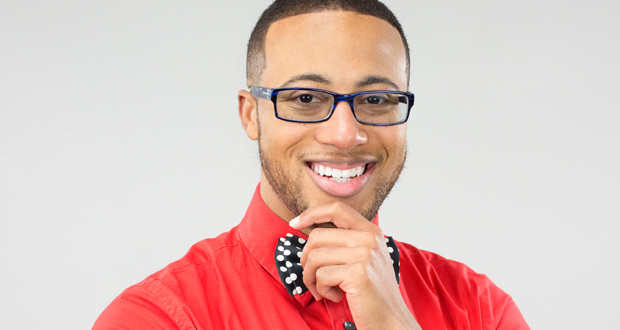 Michael McGill Jr.
Self-Improvement & Empowerment Speaker | Storyteller | TV Personality | People Builder & Counselor | Award-winning Educator
X
Program Descriptions
Awakening the Giant Within: Developing a Leadership Vision
Have you ever felt like you just couldn't see clearly? Far too often, we move around in life and in work without a clear and consistent vision that keeps us going. Vision statements and declarations are powerful- science shows that with a clear vision and compass before us, we are more inclined to persevere, more prone to experience resiliency, and have a higher success rate at accomplishing our goals. This FUN, powerful and inspirational keynote is full of insight, depth, laughs, and even some tears. This is ideal for new leaders, organizations going through change, and programs / summits that want to empower the audience members to get unstuck and become unstoppable. Audience members will leave with actionable steps to create a vision, overcome obstacles, and able to "run the race " to regularly apply the vision in order achieve insurmountable personal and professional growth.

Bodcaious Communication: How to Communicate with Clarity & Confidence
Communication! This five syllable word encompasses SO much and without healthy communication, relationships fail, businesses fail, and things can fall apart. But what if you or your team or your leaders were just a tool box of tools away from powerful and bodacious communication skills that transform failures into flourishing moments? In this riveting, interactive, and thought-provoking keynote, we'll discuss tangible steps to powerful communication and how to #VoiceUp with clarity and confidence. As an international speaker and popular on-air commentator, Michael has mastered the art of attention grabbing, how to cause people to care, and even strategy on ways to influence what actions they take. In order to do these things, it starts with building our capacity for mastering interpersonal & soft skills.

Why do interpersonal & soft skills matter? 67 percent of HR managers said they'd hire a candidate with strong soft skills even if his or her technical abilities were lacking. Soft skills represent core values, and they drive the business. In order for many to be successful in business, they must be able to engage, learn and communicate effectively.

The reality is this: without prioritizing soft skills, companies can encounter more internal conflicts, have customer service suffer, and see good people leave. Insightful research from the Hay Group has revealed that leaders / employers who incorporate a range of soft talents into their leadership approach can increase their team's performance by as much as 30 percent. The reason? It "makes people feel valued and rewarded, gives them a clearer sense of high standards, and helps them feel more motivated." There is so much value in merely honoring the "human" in another person. We all have the same irreducible needs- regardless of our position or title or orientation. And if leaders want to see those whom they lead to bear good fruit, then they (the leaders) must FIRST build them (the people) up...and plant the right seeds!!

Are you ready to plant!? This program is ideal for ANYONE who values success, growth, and personal / professional development. How much is success worth to you?

Your Voice = Your Power: The Talk for Women
You may be thinking, "so what can this guy tell us about women?" Good question! I'm actually not going to "tell" women anything. The objective of this keynote is to SUPPORT, ENRICH, ENCOURAGE, and EMPOWER women to understand themselves and the world differently, and create the life they so desire and deserve. Thought-provoking research has been done that shows how the brain changes / certain parts of the brain ignite in a healthy way when a male speaks support and "life" to women. HOWEVER, it can't just be any "man." It's important that the man exude high emotional intelligence, compassion, ethos, and the art of speaking "life." I exemplify those things, as well as, I'm aware of my "male privilege" and I use that privilege to disrupt and interrupt. As one who has been the keynote for a plethora of "all women" audiences, and as a television personality who is regularly booked because of my professional appeal to women, it's my duty to support and encourage women whenever able.

Synopsis: As a woman, you are capable of more than you know. Yet, so many women have a challenge with finding their voice and using their voices in a healthy way. Many women allow fear to stop them from playing big. Startling research shows that many women are less likely to apply for jobs / promotions until they meet 100% of the qualifications, while many men will apply when they meet only 60% of the qualifications. Is there a such thing as a confidence gap? How do we eliminate it? In a scarcity culture where "never enough" truly dominates and fear has become second nature for so many, it's hard to fully show up and be seen in this world. It can be challenging to find and use our voices- especially if we've never been fully given the tools. It can also be gut-wrenching to take risks, set boundaries, and even ask for what we want. But, what happens when we're afraid and we move ANYWAY? What happens when we're insecure or unsure but we move ANYWAY? What happens when trepidation is present, but we're vulnerable and dare greatly ANYWAY? One word: Growth. Growth can be costly and scary, but the reward can be soul-stirring and life-giving. Are you ready to pay the cost?

With clarity, simplicity, and vulnerability, Michael has a knack for building the capacity of women (and women leaders) and supporting them to rise and thrive!

Powerful Leaders Get Proximate
There is power in proximity. In fact, proximity is the breeding ground for understanding, powerfully coaching, and seeing dynamic results from those whom you lead. But how do we cultivate relationships and develop proximity? How do we set the tone for this radical transformation? We'll learn how in this thought-provoking and mult-disciplinary keynote!
Why Book Michael McGill?
Michael does more than merely give a talk; he BUILDS CAPACITY and creates connection! His strategy, storytelling, and inspiration set the groundwork for transformation!


Michael's reputation as a speaker is built on his ability to explore difficult topics with authenticity, tremendous honesty, warmth, and a healthy dose of humor. As a life-long student of healthy relationships & human development, and an unrelenting optimist, he is a master teacher, interrupter, researcher, and storyteller with the dynamic ability to both inspire audiences and leave them with actionable / strategic change strategies.


Michael's keynotes are unforgettable, practical, thought-provoking, inspiring, and rejuvenating.

Michael is hired to masterfully design and deliver:
-Opening keynotes that exude excitement, passion, and strategy to kick off your event!
-Thought-provoking and energizing master classes that will challenge, inspire, and teach members to take their life & work to new heights!
-Closing keynotes that synthesize your conference objectives and catapults your audience out the door motivated and empowered to hit the ground running.


Michael's talks are designed with interactive capacity-building exercises, peer-to-peer coaching, and thought- provoking research.


Michael brings an EXPLOSION of INSPIRATION and EXPERIENTIAL learning to the room!
M​ichael​ ​McGill,​ ​Jr.​ ​is​ ​a​ ​lifelong​ ​student​ ​of​ ​healthy​ ​relationships​ ​&​ ​human development,​ ​and​ ​he's​ ​an​ ​​unrelenting​ ​optimist​​ ​who​ ​believes​ ​that​ ​we​ ​can​ ​be​ ​great individually,​ ​but​ ​we​ ​can​ ​be​ ​​unshakably​ ​extraordinary​​ ​​when​ ​we​ ​join​ ​and​ ​commune​ ​in healthy​ ​relationships​ ​with​ ​other​ ​people.​ ​​ ​Michael​ ​is​ ​an​ ​accomplished​ ​empowerment​ ​/ self-improvement​​ ​speaker​ ​&​ ​storyteller,​ ​best-selling​ ​author,​ ​award-winning​ ​educator, behavior​ ​interrupter,​ ​school​ ​&​ ​family​ ​intervention​ ​counselor,​ ​and​ ​T.V​ ​personality​ ​who has​ ​been​ ​featured​ ​on​ ​both​ ​local​ ​and​ ​national​ ​networks-​ ​including​ ​CBS,​ ​ABC,​ ​FOX,​ ​and NBC.​ ​He's​ ​also​ ​a​ ​contributing​ ​expert​ ​for​ ​​CNN​,​ ​​HLN​,​ ​a​ ​host​ ​of​ ​regional​ ​radio​ ​shows,​ ​and for​ ​national​ ​daytime​ ​talk​ ​shows​ ​where​ ​he​ ​provides​ ​wisdom​ ​and​ ​insight​ ​on​ ​human behavior​ ​&​ ​​ ​human​ ​connection.

McGill's​ ​experience​ ​also​ ​includes​ ​work​ ​as:
A​ ​mayoral-appointed​ ​city​ ​health​ ​commissioner​ ​(Women,​ ​Infants​ ​& Children)
Contracting​ ​counselor​ ​for​ ​state​ ​mental​ ​health​ ​agencies​ ​supporting struggling​ ​families
Consultant​ ​for​ ​organizations​ ​looking​ ​to​ ​build​ ​community​ ​&​ ​increase connection.
Certified​ ​educator
Urban​ ​school​ ​mediation​ ​counselor​ ​&​ ​coordinator
Appointed​ ​juvenile​ ​court​ ​adjudication​ ​administrator

​Michael​ ​has​ ​spent​ ​the​ ​last​ ​decade​ ​empowering​ ​people,​ ​organizations,​ ​and families​ ​with​ ​the​ ​tools​ ​to​ ​get​ ​clarity​ ​from​ ​chaos​ ​and​ ​discover​ ​healthier​ ​ways​ ​of​ ​being. With​ ​a​ ​strong​ ​background​ ​in​ ​urban​ ​education,​ ​communications/conflict​ ​resolution,​ ​and​ ​a graduate​ ​background​ ​in​ ​family​ ​development​ ​(psychology),​ ​Michael​ ​has​ ​a​ ​robust​ ​passion for​ ​supporting​ ​leaders,​ ​teams,​ ​and​ ​families​ ​to​ ​overcome​ ​obstacles​ ​and​ ​live​ ​healthy​ ​lives. Michael,​ ​himself,​ ​is​ ​an​ ​overcomer​ ​of​ ​a​ ​toxic​ ​childhood​ ​that​ ​left​ ​wounds​ ​which​ ​needed healing​ ​and​ ​he​ ​knows​ ​how​ ​these​ ​deficiencies​ ​show​ ​up​ ​in​ ​our​ ​lives,​ ​our​ ​work,​ ​and​ ​within our​ ​family​ ​units.​ ​Rather​ ​he​ ​is​ ​talking​ ​to​ ​a​ ​group​ ​of​ ​corporate​ ​leaders,​ ​educators,​ ​social service​ ​workers,​ ​or​ ​college​ ​students,​ ​Michael​ ​has​ ​been​ ​praised​ ​for​ ​his​ ​ability​ ​to​ ​interrupt negative​ ​patterns​ ​with​ ​clarity​ ​and​ ​promote​ ​principles​ ​&​ ​policies​ ​that​ ​champion​ ​people​ ​to be​ ​their​ ​best​ ​selves.​ ​Michael​ ​is​ ​dedicated​ ​to​ ​magnanimously​ ​aiding​ ​people​ ​in​ ​seeing themselves​ ​and​ ​the​ ​world​ ​differently,​ ​and​ ​he​ ​has​ ​great​ ​zeal​ ​for​ ​building​ ​the​ ​capacity​ ​of leaders,​ ​educators,​ ​students,​ ​change​ ​makers,​ ​and​ ​culture​ ​shifters!​ ​In​ ​addition​ ​to​ ​youth, family,​ ​and​ ​people​ ​development,​ ​McGill​ ​is​ ​a​ ​strong​ ​advocate​ ​for​ ​educational​ ​equity​ ​and social​ ​justice,​ ​and​ ​he​ ​desires​ ​to​ ​light​ ​the​ ​world-​ ​one​ ​candle​ ​at​ ​a​ ​time.

With​ ​Michael's​ ​passion​ ​for​ ​people,​ ​social​ ​justice,​ ​his​ ​skill​ ​with​ ​reasoning​ ​and communication,​ ​and​ ​his​ ​love​ ​for​ ​teaching​ ​&​ ​storytelling,​ ​​ ​he​ ​is​ ​often​ ​called​ ​upon​ ​to​ ​give keynote​ ​talks​ ​and​ ​masterclasses​ ​to:


Educator​ ​associations​ ​/​ ​professional​ ​development​ ​programs
Corporate​ ​associations,​ ​organizations,​ ​and​ ​conferences
Healing​ ​workshops
Community​ ​building​ ​organizations
Government​ ​organizations,​ ​including:​ ​U.S​ ​Department​ ​of​ ​Veteran​ ​Affairs,​ ​State​ ​of Minnesota,​ ​City​ ​of​ ​Kansas​ ​City,​ ​Commonwealth​ ​of​ ​Virginia,​ ​Nevada​ ​Department of​ ​Corrections,​ ​and​ ​more.
Universities,​ ​including:​ ​Georgetown​ ​University,​ ​University​ ​of​ ​the​ ​Bahamas, University​ ​of​ ​Michigan,​ ​University​ ​of​ ​Missouri,​ ​Truman​ ​State​ ​University,​ ​and​ ​more