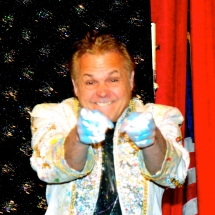 Michael Ostaski
Total Artistic Experience Fusing Sound And Color
Traveling From
New Mexico
X
Program Descriptions
Art Explosion
Music Thunders. Paint Soars. This is a pure Adrenaline Rush! Art Explosion: A truly unique experience available for all Special Events and Corporate Entertainment functions. Internationally renowned artist Michael Ostaski, using only his hands and a few simple brushes, transforms a blank canvas into a mural sized masterpiece in under 7 minutes...

Speed Painting with the 3 Painters
The 3 Painters is unlike any other speed painting entertainment act you've seen. As giant blank canvasses are transformed into larger than life tributes in mere minutes, The 3 Painters fuse the live performances of 3 gifted fine artists with various singers and entertainers to form an entertainment masterpiece!
Why Book Michael Ostaski?
Michael is a famous artist who has a portrait painting performance act you need to see to believe. He is an American art icon as well as accomplished musician.
Michael weaves real life perspectives with enthrallingly created art
Art is truly a way of life for Michael Ostaski, a man whose life is an evolving work of art. From the home and art studio he custom-designed and built near Santa Fe, to his now legendary treks across the country in the 70s and 80s in his hand-built "land yacht," creating and teaching his art, everything Ostaski does is informed and inspired by his love of freedom, and his eternal quest for beauty. He's an American original, through and through.
Growing up in an artistic family, Ostaski developed his passion for painting at an early age. His mother was a mural artist in Southern California, where he grew up. His father, an accomplished artist in his own right, and a twenty-year staff artist for a trade magazine, was also a celebrated magician and member of the famed "Magic Castle," where a young Michael met such legends as Blackstone, and Seigfried and Roy.
That magic must have rubbed off on Ostaski, as his passion for beauty, and his unique gift for making the most of every moment drove him to the creation of his most inspired work yet: Art Explosion—a one-of-a-kind "studio on stage." Given free reign in a performance art environment has meant an unprecedented unleashing of Ostaski's innate talents, creating his portraits in just minutes, to the awe and amazement of his audiences with stunning, much larger-than-life results.
"Each painting is a challenge," he says. "When I start a portrait, paint seems to be flying everywhere, and no one knows what's happening. But it's all part of getting into the creative space. There's a point in the process where it all flows, becomes timeless; even though in the back of my head a voice is counting down—only two minutes left, only one minute left. That's the pressure I thrive on. Then it's done."
Michael's paintings hang in public and private collections throughout the U.S., Canada, and Europe. His depiction of the Statue of Liberty hangs in the New York City fire station closest to Ground Zero. "People often tell me how inspired they are watching the performances. I'm very grateful to touch someone like that, to be part of their lives in that way. But it's not me. It's the power of art."
A true renaissance man, Michael is also an accomplished musician on several instruments, and enjoys painting while accompanied by live musicians. "Music and visual art are part of the same world to me. The opportunity to have these two passions meet has been a gift."
Over the last twenty years, Ostaski has painted or appeared with everyone from Jay Leno to Colin Powell, Bill Cosby to Rudolph Giuiliani, Michael Jordan to President Bush. With his performances having expanded to include over 200 subjects—historical and present day icons to custom tributes—every performance is an event, a chance to challenge himself as well as the audience.
"All considered," says Ostaski, "art brings me closer to people and closer to life. Whether I'm painting a CEO in Spain or a celebrity in Vegas, it's all part of this amazing, unfolding life journey. Art Explosion has provided me opportunities to see things more deeply, to even know myself in a different way…so I keep on performing and keep on painting."