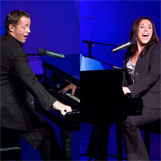 Michael and Amy - Dueling Pianos
Dueling Pianos, Music and Comedy Fun
Why Book Michael and Amy?
Music, fun family dynamics, and clean comedy, the perfect entertainment for any function
Audiences will enjoy the eclectic and magical feel to the performance, and come away refreshed and talking about the night for a long time to come. Check out their list of previous clientele!
Michael and Amy's music & clean comedy dueling pianos show is an award winning "feel-good-fun-entertainment-experience" for audiences of all ages.

Audience members consistently describe Michael and Amy's show as, "Unexpected", "Hysterical", "Incredible Talent", and "SO MUCH FUN!" The audience is as much a part of the show as are Michael and Amy. From the moment this husband/wife dynamic duo take the stage they engage and involve their audience with familiar music that spans and unites generations. The songs may be familiar but Michael and Amy's genius lies not just with the music but with what they DO with the songs that turns an audience full of strangers into a singing, laughing, cheering family of friends.

Michael and Amy masterfully combine an eclectic mix of musical genres with humor and personal charisma. Their diverse range of popular and familiar music, some of which should never have been attempted on one piano, much less two, across-the-board humor, stand-up and improvisational comedy, and complete disregard for the fourth wall instantly bring a diverse audience together in song and laughter. One moment you're singing at the top of your lungs, the next doubled over in laughter, and then... breathless. Always fun. Always exciting. Completely entertaining.

Michael and Amy's show is a magical and eclectic mix - part music, part comedy, part theatre, part concert, part improv, and all chemistry. People leave their show grinning ear to ear, laughing, singing and wake up the next morning knowing their favorite songs now have a whole new way of making them smile. A reminder of the fun they'll never forget.

Experience Counts!
Michael and Amy's client list, track record, references, and number of repeat performances is the best possible indicator of the outstanding entertainment they bring to any stage. Their clients are second-to-none and demand only the best. From engagements with the Guggenheim, Carnegie Hall, PETCO, AFLAC, Rolls-Royce, Wells Fargo, MasterCard International, Children's Hospital, Special Olympics, and many more, Michael and Amy's music and comedy show is constantly in demand. Michael & Amy are the perfect treat for audiences of all ages and backgrounds.