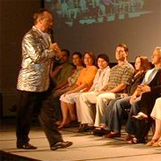 Mike Mesmer 'Eyes'
Powerful Hynotist
X
Program Descriptions
Hypnosis Lecture
Edutainment
Hypnotic Review Show
NEED a great speaker for your next meeting? WANT a presentation that is educational and entertaining? ENJOY a speaker that captivates your audience.

Edutainment
After performing shows and lecturing throughout the corporate market for the last 15 years Mike Mesmer"Eyes" has combined his vast knowledge and experience into a completely new and exciting package. This new program can simply be described as "Edutainment."

Many groups have had a speaker one year, an entertainer the next year and are now seeking something different and exciting. Mike Mesmer"Eyes" has the perfect solution with "Edutainment."

Mike Mesmer"Eyes" brings a new approach to an old problem. With actual volunteers Mike will demonstrate the power of the subconscious mind. This teaches the audience valuable lessons on how visualization can help achieve their goals.

Getting motivated and staying motivated over a long period of time is without a doubt one of the hardest challenges. Most people are only able to stay focused on their goals for a few days at a time, after which their performance wanes. In the absence of repeated external reinforcement it is extremely difficult to remain enthusiastic and properly motivated. The techniques shown in Mike's presentation are designed to eliminate this problem and enhance personal performance.

This demonstration of the awesome power of the subconscious mind is fun and extremely entertaining. The audience will leave with effective tools that can be used to improve many aspects of their lives. This is, without a doubt, a presentation that your group will be talking about for months!

Hypnosis Lecture
Most people, when asked about hypnosis, freely admit that they know little or nothing about the subject. Most of the knowledge available to the public has been distorted. The word "hypnosis" conjures up visions of people with mystical powers controlling other people's minds. Nothing could be further from the truth.

This informative lecture by Mike Mesmer "Eyes" will entertain conference attendees while they are involved with their own programs. This lecture is designed to dispel all the misconceptions surrounding hypnotism and to educate and enlighten the public to the benefits derived from the science of hypnosis.

His lecture provides a history on the subject from the evolution of hypnosis from an obscure mystical past time to its current standing as a legitimate medical tool to improve people's lives.

During the second half of the lecture the audience will be given an opportunity to experience this beautiful state of relaxation, together with some demonstrations on what can be achieved with hypnosis.

This is truly a fascinating lecture that will amaze, educate and entertain.

Mike Mesmer "Eyes" earned his reputation as "The Worlds Most Powerful Hypnotist" through his amazing ability to hypnotize even the most skeptical of clients.

Hypnotic Review
The Mike Mesmer "Eyes" Hypnotic Review is a fast-paced, exciting and hilarious show that involves the audience in several ingenious and creative activities. Audience reaction to this Las Vegas-styled sensational show is overwhelming and non-stop, with screams of laughter during the show to standing ovations following his unbelievable finale. Now you can book this show for your corporate event, fund-raisers, college or comedy club. It's an unforgettable experience that is sure to be the highlight of any event.

Mike Mesmer "Eyes" is equally impressive as a professional speaker and has conducted his specialized seminars for numerous Fortune 500 companies with tremendous results in increased productivity. His vast knowledge of hypnosis has allowed him to develop a unique lecture on the subconscious aspects of business.

This multi-talented professional will work within your particular specifications to bring you and your group an enriching and entertaining event.