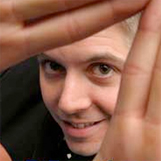 Nate McVicker
America's Funniest Hypnotic Experience
X
Program Descriptions
Nate McVicker's Hypnotic Experience
Take a deep breath and as you exhale slowly, relax and imagine a show that combines the spontaneity of improvisational comedy, the simplicity of mime, the mystique of magic, and the fears and aspirations of amateur night. Nate McVicker's Hypnotic Experience is just that.

After McVicker briefly explains hypnosis, he asks for volunteers straight out of the audience. He conducts his show with good judgment, compassion and respect for his subjects. He makes his subjects the stars of the show – and does it with class and style.

McVicker is a Certified Hypnotist and has entertained thousands of people. He has done shows for comedy clubs, casinos, corporations, schools, universities, and fund-raisers. Try to resist having fun… You'll find it impossible to do. You will leave with tears of laughter in your eyes and will be spellbound with interest.

Nate's volunteers are put into hilarious situations as the creative of their subconscious minds surface. Watch as your colleagues instantly become famous singers or other celebrities. Watch them become Martians who only speak a Martian language that one volunteer interprets to the audience. Watch your colleagues eat a lemon while thinking it's an apple... without puckering at all!

Nate's routines are interlaced with the spontaneity of outrageous comments by his volunteers. His show is adeptly guided according to the participant demands. Whatever kind of show you are looking for, Nate McVicker is totally astonishing!

There are no swinging pendulums. No droning voice saying, "You are getting sleepy." Everything is fast paced, allowing no time for the audience to dose off. They are too busy wiping tears of laughter from their eyes. When the subjects are brought out of hypnosis, McVicker always makes sure they feel fresh and alert. This original and hilarious show can be enjoyed by any size audience from 100 to 10,000. You don't want to miss the opportunity to see this highly entertaining show!