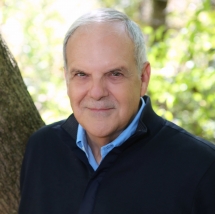 Nick Jacobs
The Power of Delegation
Traveling From
Pennsylvania
X
Program Descriptions
The Future of Healthcare
Proteomics, genomics, single nucleotide polymorphisms, tissue engineering, bone scaffolding, and nanotechnology are all part of this presentation on the future of healthcare. As molecular biology becomes more friendly, numerous technologies will result in significant additions to physical analysis and diagnosis.

Integrative Holistic Medicine and YOU
As the only non-physician member of the American Board of Integrative Holistic Medicine and a veteran of a decade and a half of utilizing integrative medicine in healthcare settings, Mr. Jacobs provides insights into the use of integrative medicine in the healthcare environment; its pros and cons, pitfalls and potential profits.

Patient Centered Care
As a pioneer in the Planetree concept of care, Mr Jacobs' presentation presents the basis upon which this patient centered concept is based. Having more than 15 years of experience in this type of healthcare delivery system, Nick elaborates on the steps, pitfalls, and outcomes derived from creating a truly patient centered environment.

If You Take Care of Your Employees, They Will Take Care of Your Customers
The primary way to reach employees and to create a positive environment for them is by recognizing their abilities and nurturing their well-being on multiple levels: health, education, and welfare. Treating employees with respect and dignity results in them doing the same for your customers/patients.

A Blueprint for Transformation
Change is inevitable, but agreement to change is not. This presentation prepares leaders and staff to make the changes needed, but, more importantly, it convinces them not to place limits on their dreams and ambitions.
Why do so many high profile individuals, organizations and companies entrust their futures to Nick Jacobs? His capacity to see the big picture in the face of adversity is matched by his skill at crafting positive futures for those in need of that expertise. With his first rate background in both not for profit and for profit organizations including biotech start-ups, hospitals and research institutes, Nick is able to take his talents from corporate boardrooms to line management, leading SunStone Management Resources assembled expertise in strategic positioning, holistic medicine, patient centered care and evolving technologies to name a few.
His work has attracted the attention of the national media including The Wall Street Journal, Forbes, Fortune, USA Today, Becker's Hospital News, regional publications, magazines, professional journals and websites. Nick often says he has highly-developed intuitive skills that allow him to feel out a situation often before it is recognizable to others. This ability, combined with his endless enthusiasm and adrenaline, is a powerful arsenal for his clients.
A Pennsylvania native, Nick's formal education includes degrees from Indiana University of PA, Carnegie Mellon University and studies at Harvard, the College of William and Mary, and the American College of Healthcare Executives. Career highlights include his turn around work at several organizations, serving as Vice President of Administrative Services at Mercy Medical Center, Chief Communications Officer and Executive Director at the Conemaugh Health System, President at Windber Medical Center, Co-founder of both the Windber Research Institute and the Southwest Florida Global Research Institute.
Nick is proud to continue his service to numerous Boards of Trustees of various organizations including the American Board of Integrative Holistic Medicine. He has been Chairman and Vice Chairman of over a half dozen organizations, and was the first hospital CEO to write an internationally recognized blog. Nick has served on boards of both public and private companies, including 1st Summit Bank, the Keystone Chapter of the American Red Cross, and has received the Outstanding Alumni Award from Indiana University of PA and alumni recognition from Carnegie Mellon University. He has also served on the adjunct faculty of St Francis University and has been a guest lecturer and speaker for Carnegie Mellon and Ohio State Universities, the American Hospital Association, American College of Healthcare Executives, World Health Organization, National Cancer Institute, Planetree, and Association of Healthcare Philanthropy. Nick's latest side venture is serving as an advisor to numerous bio-tech start-up organizations.