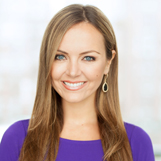 Nicole Lapin
Youngest Anchor Ever On CNN & CNBC
X
Program Descriptions
Every Story Comes Back to Money
Most people would rather talk about anything—anything—before talking about money. But every story comes back to money, and it's time to join the conversation. As a veteran financial journalist, Nicole has been the first to break financial stories with far-reaching impacts on economies large and small. She had to learn the jargon and idiosyncrasies of the finance world first-hand, not through getting her MBA but at the School of Hard Knocks. And now she shares her own experiences­—warts and all, in plain English—to inspire others to learn the language of money and use it to live a "rich" life in every sense of the word.

Investing in Yourself
Investing in yourself and others in your community is good business. Period. Whether it's buying your morning latte because it keeps you from splurging on a more expensive item later on, or subscribing to a trade magazine to get ahead at work, Nicole argues that spending money on yourself can be a good thing. Sometimes you need to spend money to make money—and investing that money in yourself will pay dividends down the road for your goals and your life.

Entrepreneurship is #winning
Nicole said it before, in her "Made in America" series on CNBC, and she'll say it again: entrepreneurs were the winner of the recession. And they will continue to come out on top in our new creative economy. Nicole breaks down the difference between a hobby and a legitimate business idea and then offers actionable steps to get your Big Idea underway. Whether you want to start an entirely new business or own the space you're in at your current job, Nicole will teach you to build your empire and be the CEO of you.

Act Like a Lady, Think Like a Boss
Put your career into overdrive! Nicole presents the networking tips that you won't learn in business school, from faking it 'til you make it with DIY business cards to making friends with the assistants who will be bosses someday. Where can you find networking opportunities (hint: in more creative places than you might think!) and how can you work a room in a way that's impactful, but not sleazy? Make the most of your career and personal brand with these actionable tips.
Nicole Lapin the New York Times bestselling author of Rich Bitch: A Simple 12-Step Plan for Getting Your Financial Life Together…Finally and Boss Bitch: A Simple 12-Step Plan to Take Charge of Your Career. Nicole is no stranger to breaking down complex business principles for all to understand, utilizing her signature sassy style. From anchoring business shows on network television, including on CNBC, Bloomberg and CNN, to contributing money reports to "Today" and MSNBC, Nicole has a long history with speaking the language of money fluently, and using that language to empower an entire generation of women to take control of their lives and their finances.

Star of the CW's business competition reality show Hatched, Nicole helps a fresh wave of entrepreneurs to get their businesses off the ground with smart advice and actionable feedback on their products. As Redbook magazine's first-ever money columnist, she covers topics each month ranging from talking to your sig-o about finances to creatively saving on holiday shopping to getting into the investing game. Nicole is also certified as an Accredited Investment Fiduciary and graduated as valedictorian from Northwestern University.
Books

Rich Bitch