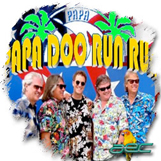 Papa Doo Run Run
Award Winning California Beach Party Band
Traveling From
California
Why Book Papa Doo Run Run?
Papa is a legendary West Coast vibin', "hang 10" type of band that transports modern workaholics to a time of lazy beach days and wholesome songwriting
Papa has recorded and performed with such bands as The Beach Boys, Fleetwood Mac, Chicago, Kenny Loggins, and Jimmy Buffet
The year was 1965. The air was clean, the music refreshingly innocent, and in Cupertino California, a small, pre-Silicon Valley town near Santa Cruz, 4 high school buddies got together to form a garage band. That band is called Papa Doo Run Run and is still rockin' today! In a typical year, Papa will do over 100 dates, covering 15 states and 5 countries, as they have continuously for nearly 4 decades.

Papa Doo Run Run's forte' is CLASSIC ROCK of the 60's & 70's, including their award winning re-creation of the hits of the Beach Boys. Papa toured with Jan & Dean and members of the Beach Boys throughout the 70's, 80's, and 90's. Their act is FAST, FUN, and SLICK. They encourage their usually Hawaiian-shirt-clad audience to "hang 10" on the dance floor, and one of their amazing strengths is getting the entire crowd on their feet - singing along - it's an unbelievable sight.

When they first started out, some of Papa's opening acts in the early days included Van Halen and the Doobie Brothers when they were still in their own garage band phase! Recording-wise, Papa Doo Run Run has 7 CDs, and a dozen singles to their credit, including their top 40 hit re-make of the Beach Boys' "Be True To Your School", (RCA, 1976) produced by their friend Bruce Johnston (Beach Boys). The flip side of "Be True"…is a song called "Disney Girls", whic h opened the door to what was to become a 15 year run at Disneyland as the "Celebrity House Band". In 1986, Papa Doo Run Run was honored to receive a GOLD RECORD award and a GRAMMY nomination for their "California Project" CD (1985, Telarc Records), and since that time the band has released 5 other critically acclaimed albums.
Throughout the late 70's PAPA toured with Jan & Dean as their opening act and back-up band, and appeared in and did the soundtrack album for the CBS-TV movie Deadman's Curve. In the early 80's they graduated from J & D to the Beach Boys and toured and recorded with members of that band for the next 2 decades. Papa Doo Run Run has also appeared in concert with such luminaries as Roy Orbison, Fleetwood Mac, Kenny Loggins, Chicago, Jimmy Buffett, and a zillion other huge names. Their most notable performances include two Olympics, eight Super Bowls, and two Inaugurations. In 1988, Papa was dubbed "CALIFORNIA'S BAND" by California's then Governor Dukmejian, and in 1992 they added a former member of the Beach Boys to their line-up.
The 80's also saw Papa's original 60's/70's audience growing into prominent businessmen and women. Those kids who cut their teeth on Papa Doo Run Run were now running major corporations - and they remembered the great times they had growing up with the band. Papa began performing at private corporate events, conferences, and conventions - the untapped gold mine that other bands had yet to discover. They became the "Kings of Corporate", doing up to 150 corporate dates a year, worldwide - and at every one of them someone would come up and say "Hey! You guys played at my high school." or "I danced to you guys at Disneyland!" It's unbelievable how many lives Papa Doo Run Run's music has touched over the years.
What makes Papa Doo Run Run different from most other cover bands? Try 2 Gold Record awards, a Grammy nomination, theiy legendary collaborations, lifelong fans, their "second to none" quality, and credibility. Add to that their incredible 5-part harmony, and a show that's fun, spontaneous, and interactive, covering all the Classic Rock hits of the 60s and 70s, plus their award winning re-creation of the hits of the Beach Boys. Now that's one rockin' good time! With nearly 40 continuous years of performing together, Papa Doo Run Run must be doing something right.
Papa Doo Run Run today is: Bobby "G" Gothar - guitar and vocals (performed with such legendary country greats as Merle Haggard, Lee Greenwood, and Charlie Daniels); Jim Rush - bass and vocals (1965 founding member); Adrian Baker - guitar and vocals who joined PAPA after his 20 year stint performing with the Beach Boys and Frankie Valli; Don Zirilli - keyboards and vocals (another original member since 1965); Bo Fox, drums and vocals (a long time friend who toured with Jimmy Buffett, Mike Love, and the Eagles throughout the '80s), and our newest member, Denny Hardwick, who we first met while playing at Disneyland in the 80's, on vocals, guitar, bass, banjo, ukulele, fiddle, and basically anything with strings. Jeffrey Foskett - guitar and vocals is on loan to the Beach Boys.
2015 marked the band's 50th year. Holy Crap!