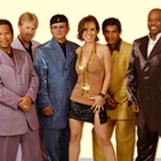 PartyQuake
Show-Band, A Total Entertainment Experience
Traveling From
California
X
Program Descriptions
Dance/show band - frenetic funk, dominating dance rhythms, combined with awesome Latin, blues and rock selections from the past to the present
PartyQuake is the perfect 6 piece dance / show-band combining the talents of some of Southern California's finest musicians and entertainers. Frenetic funk, dominating dance rhythms, combined with awesome Latin, blues and rock selections from the past to the present are just a few of the things you will witness with this act. The energy level has been described as stratospheric; the appearance youthful but mature; and the show is simply candy for the eyes!

If you are into being moved by a romantic ballad, PartyQuakes' vocalists will blow you away with their sultry renditions of all of yesterday's and today's slow dance grooves. Guaranteed to make your evening with them a memorable one. If you are looking to book a band that will be the highlight of your private or public event...look no further!

The music chosen by PartyQuake has been specifically selected to bring any crowd to a virtual frenzy! They have a reputation for bringing out the life in the most sedentary of groups. PartyQuake performs Top 40 / Last Decade, 80's Pop & Dance, 70's POP and Dance, Classic Rock, Jazz & Standards, Ballads & Duets and Latin-Spanish. Whether you are in to R&B, rock or soul, the songs they choose from these genres have the greatest chance of getting people to having a good time. For instance, a person may approach them and request that we play a little Rock & Roll. Tunes that have the sound of a rock tune but also the feel of a dance track. Conversely, the crowd may be into more of the urban songs they specialize in. If that is the case, nobody does straight ahead funk and disco like PartyQuake...NOBODY!

Their philosophy is and always has been that they are in the business of entertaining others, not themselves. The music they most often perform has been chosen because of their vast experience of knowing what works and what doesn't. PartyQuake ensures your complete satisfaction.