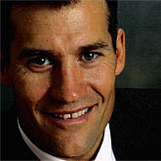 Paul Martin
Attitude Over Adversity
X
Program Descriptions
Attitude Over Adversity: Embrace Your Obstacles and Use Them to Your Advantage
Go Get it and Don't Regret It: Follow Your Passions to Success
Paul Martin helps companies view adversity as the catalyst for success. He shows us that it's often the perception of adversity that grinds the wheels to a halt - that the struggle is perhaps the key to advancement.

Paul's attitude for optimism started early. In his blue-collar middle-class home town in Massachusetts his teenage lifestyle was far from exemplary. It was his relationship with his hard-drinking, heavy-handed father that taught him to make the most out of the hand you're dealt. At the age of 16, with his "create the solution" attitude, he checked himself into a foster home in pursuit of an environment where he could find comfort.

Several years later, after a stint as a structural steel erector, Paul graduated from the University of Massachusetts at Lowell with a degree in Mechanical Engineering and membership in the discpiline's honor society.

This degree was awarded just six months before a car accident led to the amputation of Paul's left leg five inches below the knee.

Owning the attitude that crosses rough terrain, Paul knew this latest obstacle would be a struggle, yet one he knew he could ultimately conquer. His optimism was the key to winning the battle.

Paul has since competed in ten Ironman Triathlons and currently holds the world record for leg amputees. (At that 2005 record-setting race, he finished 89th out of nearly 2000 able-bodied athletes!) He also won the Disabled Cycling World Championships in 2002 and brought home silver and bronze cycling medals from the 2004 Athens Paralympic Games.

Paul's critically acclaimed memoirs, One Man's Leg, have inspired thousands around the country and were later published in Japan.