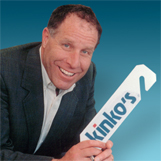 Paul Orfalea
Founder of Kinko's, Inc.
Traveling From
California
X
Program Descriptions
Copy This!: Lessons from a Hyperactive Dyslexic Who Turned a Bright Idea Into One of America's Best Companies
Work - Love - Play: Achieving Balance Between Life and Work
Anyone Else Can Do It Better: Leadership & Motivating Workers
Paul Orfalea founded Kinko's in 1970 near the University of California at Santa Barbara with a simple idea: provide college students with products and services they need at a competitive price. The space that Orfalea rented for his copy business was so small that the copy machine had to be lugged out onto the sidewalk. From its modest beginnings, Kinko's is now the world's leading business services chain. Today, there are over 1,200 Kinko's worldwide.

Much of Kinko's success can be traced directly to Orfalea's unique business philosophy that was based on the founder's freethinking, creative style. Orfalea's theories and instincts on how to operate a successful business were grounded in his passion for retailing, his insistence on taking care of his co-workers and customers, and a sharp eye for opportunity. Through Paul Orfalea's leadership, Kinko's has taken an exemplary leading role in environmental responsibility.

Orfalea encouraged active participation from all 23,000 co-workers, and generous incentive programs were implemented to stimulate creativity. In fact, co-workers at every level were encouraged to share ideas freely in organizational decisions. A reflection of this success is that Fortune magazine selected Kinko's as one of the "100 Best Companies to Work with in America" in 1999, 2000 and 2001. Forbes magazine also ranked Kinko's 84th on its year 2000 "Forbes 500 Biggest Private Companies." Working Mother magazine listed Kinko's in its "Best Companies for Working Mothers" 2001 issue.

The year 2000 brought about many changes for Orfalea as he retired from his position as Kinko's Chairperson, and assumed the role Chairperson Emeritus for Kinko's. In 2004, Kinko's was acquired by the FedEx Corporation. Orfalea is no longer involved with FedEx Kinko's business management. Orfalea refers to his retirement as being "repurposed" and is now involved in a range of activities, including West Coast Asset Management Inc., Stone Canyon Venture Partners LP and other business ventures.

Orfalea, his family, and Kinko's have a long history of supporting educational initiatives including scholarships and child development programs. In 2000, the family started the Orfalea Family Foundation, which supports various philanthropic areas. Grants have been concentrated in California, especially child development facilities on college campuses, along with other children's centers and programs for underprivileged youth. The foundation specifically focuses on early care and education, caregiver training and intergenerational programs. The Orfaleas also support organizations addressing "learning differences" for those challenged with different learning styles.

Another of Paul Orfalea's efforts is to increase public awareness of the important need for businesses to support "family-friendly" work/life policies including flex time and quality early care for children of working parents. Orfalea is working with government leaders to encourage businesses and educational institutions to provide these benefits to co-workers and students.

Orfalea is in high demand for public speaking, often addressing business organizations such as entrepreneurs and working people, and learning-challenged groups with his inspirational messages. He frequently teaches at University of Southern California (his alma mater), UC Davis, UC Santa Barbara, as well as various community and state colleges, and he has taught at NYU, Princeton, Harvard, UCLA and Wharton School of Business among others. Cal Poly has dedicated a business school in the Orfalea name in honor of his ongoing contributions. USC plans to do the same.

Forbes, People and Fortune magazines, along with The New York Times, have profiled Orfalea as one of several prominent leaders who has overcome dyslexia and gone on to have an illustrious career. Other prestigious awards are the 1998 Entrepreneur of the Year Award from the University of Southern California's Marshall School of Business; the 2000 Philanthropist of the Year and 2003 Friend of the California Community Colleges; the 2001 Conrad Hilton Entrepreneur Award, the Beta Gamma Sigma Medallion for Entrepreneurship, CEO Hall of Fame, the Salvation Army's Sally Award, and USC's 2003 R.O.S.E Award (Recognition of Outstanding Support for Education). Orfalea has received the Hello Friend Award from the Ennis William Cosby Foundation, along with the Ellis Island Medal of Honor and various senate recognitions. In 2004, Orfalea was awarded the honorary degree of Doctor of Laws from Babson College in Massachusetts.

Despite all of these high profile activities, you will find Paul Orfalea very down to earth, friendly, compassionate and continually curious about the world around him - he is a true modern adventurer.
Books

Copy This!