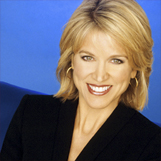 Paula Zahn
Former CNN Anchor
X
Program Descriptions
Working Moms How to Juggle Career
How the Media Covers Politics & the Elections
Why Book Paula Zahn?
Paula Zahn is a self-made reporting star, CNN Anchor, professional cellist, and has interviewed some of the world's most fascinating people
Paula knows about hard work, and she loves speaking to others about it! Her favorite speaking topics include the struggles of juggling motherhood with professional success, and an inside look at how the media works
Paula Zahn's latest project, a two hour documentary titled "Retirement Revolution" for PBS about the 78 million baby boomers coming into retirement.

Paula Zahn anchored CN's weeknight prime-time evening program, Paula Zahn Now, a program where newsmakers debated controversial issues of the day.

Previously, Zahn anchored the network's flagship morning news program, American Morning with Paula Zahn, which she helped launch in fall 2001.

In 2003, Zahn anchored and provided the latest news on Operation Iraqi Freedom, interviewing multiple guests, including family members of troops, diplomats, Iraqi-Americans and politicians. On her first day with CNN, Zahn began continuous on-scene coverage of the Sept. 11 terrorist attack on the World Trade Center towers in New York. In the course of that reporting, she interviewed multiple rescue workers, survivors, dignitaries and officials, including Jordan's King Abdullah, U.S. Secretary of State Colin Powell, Secretary Rumsfeld of N.Y., N.Y. Gov. George Pataki, former U.S. envoy Richard Holbrooke and N.Y. Mayor Rudy Giuliani, to name a few.

Before joining CNN in September 2001, Zahn most recently was host of The Edge with Paula Zahn, a daily news program on Fox News Channel. She joined Fox in 1999 as anchor of its evening news, The Fox Report. Previously she spent 10 years at CBS News, where she co-hosted CBS This Morning and anchored the CBS Evening News Saturday Edition. She also co-anchored the 1994 Olympic Winter games in Lillehammer, Norway and served as primetime co-host of the 1992 Olympic Winter Games in Albertville, France. Earlier, Zahn served as co-anchor of World News This Morning and anchored news segments of Good Morning America on ABC. Zahn joined ABC in November 1987 as anchor of The Health Show.

Zahn began her career at WFAA-TV in Dallas. In 1979 she moved to San Diego to work for KFMB-TV. Zahn also worked at KPRC-TV in Houston, WNEV-TV (now WHDH-TV) in Boston and KCBS-TV in Los Angeles before joining ABC News.

Throughout her career, Zahn has interviewed multiple key newsmakers, including former U.S. Presidents Bill Clinton, George Bush, Jimmy Carter and Gerald Ford, Cuban President Fidel Castro, Bishop Desmond Tuto, H.M. Queen Noor of Jordan, former President of Georgia Eduard Shevardnadze, former Russian President Boris Yeltsin, former Russian President Mikhail Gorbachev, first lady Betty Ford, civil rights leader Stokely Carmichael and human rights activist Winnie Mandela. Zahn has also interviewed athletes and artists, including tennis players Venus and Serena Williams, baseball players Ted Williams and Joe DiMaggio, actors Faye Dunaway, Sophia Loren, Katherine Hepburn, Warren Beatty, Mariah Carey, Alicia Keyes and Carly Simon.

Zahn has received numerous honors and awards, including eight Emmys, the National Commission of Working Women Broadcasting Award and an AWRT Award for reporting on gender bias in education. Zahn also received an Albert Einstein College of Medicine Spirit Achievement Award, the Second Annual Cancer Awareness Award by the Congressional Families Action for Cancer Awareness, the Spirit of Life award from the City of Hope Cancer Center and a citation from New York's Beth Israel Medical Center for her contributions to the battle against breast cancer. In 2004, Zahn received the Love of Life Foundation's Tavel-Reznik Award in support of cancer prevention, the Matrix Award for Broadcasting from New York Women in Communications and a National Headliner Award for "Fall of Saddam." She was also honored by the Museum of Radio and Television for her body of work.

In 2006, Zahn won a Gracie Award for Paula Zahn Now's exclusive interview with Carmen bin Laden, Osama bin Laden's sister; a National Headliner award for the program's newcast about the emergency landing of a Jet Blue Plane, Tornado and Hurricane Rita; and a Freddie award for her interview with U.S. Health Secretary Tommy Thompson about his family's dealings with breast cancer. In 2007, Zahn won a Gracie Award for Paula Zahn Now: Dana Reeve: A Tribute. Also, in September 2007, she is receiving an Achievement Award for Broadcasting from the Varadi Ovarian Initiative for Cancer Education (VOICE).

Zahn, an experienced cellist who began playing when she was 5, made her Carnegie Hall debut in 1992 performing with the New York Pops orchestra. She returned to Carnegie Hall in 2004 and 2005 to play with the Sejong Orchestra at their annual benefit concert.

While at CBS, she played on-air with cellist Yo Yo Ma and flutist James Galway and the Muppets! She also performed with the National Symphony Orchestra as it saluted outgoing conductor Mstislav Rostropovich and she joined Rostropovich in St. Petersburg, Russia to play with a one hundred cello orchestra he conducted.

Zahn earned a bachelor's degree in journalism from Stephens College in Columbia, Mo., attending on a cello scholarship. She also studied at Caius College in Cambridge University, England and the University of Valencia in Valencia, Spain.