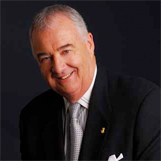 Peter Legge
President & CEO of Canada Wide Magazines and Communications
X
Program Descriptions
Doing Business in Tough Times – Proven Strategies and Timeless Lessons to Stay on Top
Are you worried about the current state of the North American economy? Do you feel like your strategy just isn't having the same impact as it was? With more than 35 years as a successful entrepreneur, Peter Legge will tell you that in good times and bad, the fundamentals of success don't change, we just have to be reminded from time to time about what they are and how to apply them in the current economic climate.

The Runway of Life: Take Charge and Live Your Dreams
Life, like a runway, is limited in length. Let Peter Legge show you how to make the most of it and live your dreams with his life-changing Runway of Life lessons. An award-winning businessman, professional speaker and best-selling author, Peter uses a series of inspiring, entertaining stories, conveyed with disarming warmth and good humor, to show you how to... Dream big and set goals, because the first step to achieving a dream is having one. Discover your talents and your purpose. When the two intersect there is no limit as to what you can achieve. Embrace entrepreneurship and learn how everything you do – even the efforts that fail – propels you toward success. Read for success and use the wisdom of successful people to enhance your own life. Harness the dynamic qualities of enthusiasm, a positive attitude and unshakable tenacity. Use your time effectively to gain the greatest rewards.

27 Success Habits: Winning Ways: Developing Million-Dollar Habits For Success
To be a winner in life and in business you must act like a winner, and what better way to do that than to emulate the habits of highly successful people. Let internationally renowned businessman, best-selling author and acclaimed professional speaker Peter Legge be your guide. A born storyteller with an entertainer's wit and sense of timing, Peter takes audiences on an inspirational journey through 27 simple and easy-to-implement habits that cumulatively have the power to change your life and your fortunes.

Taking on the Giant: How to Meet the Challenges of Leadership
The leadership role, whether at the head of a family or at the helm of a major corporation, brings with it many challenges, rewards and responsibilities. Peter Legge, Chairman and CEO of Canada Wide Media (the largest independently owned publishing company in Western Canada), knows what it takes to be a successful leader. His more than 40 years of first-hand business experience form the core of this powerful, often funny and always entertaining seminar on what it takes to be effective in the leadership role.

Smooth Stones: Ammunition for Personal Change
In the famed biblical story David and Goliath, all it took for young David to slay the giant was five smooth stones, a sling, and a lot of focus. In his acclaimed seminar, Five Smooth Stones, Peter Legge uses this timeless tale of triumph over adversity as a vehicle for exploring what it takes to prevail in life and in business.

Make Your Life a Masterpiece - Take Control of Your Canvas of Life For Success!
Based on Peter's bestselling book of the same name, this keynote presentation teaches ways to carve out a successful destiny that is distinctly yours. Creating your Masterpiece takes courage and, the belief that you have a gift to offer the world. It takes selfmastery, and a winning attitude! Peter Legge is a masterful leader in business, and in life. With the warmth and humor Peter is world renowned for, he artfully draws from his own canvas to deliver the ideas and attitudes you need to create your own masterpiece. Learn how your distinctive style and one of kind experience is key to being the master of your own destiny. Understand that while your circumstances may determine the colors that you have to work with, the choices that you make day-to-day are in fact, the brushstrokes that will define what your Masterpiece looks like.

It's Not Enough To Do Things Right, Do The Right Things: Leadership Principles for Life, Business and Success
Peter Legge learned at a very early age that leadership is never given, but rather taken and based on the important principles instilled in his youth, Peter has developed a proven track record as both a leader and a mentor to others. His company, Canada Wide Media Limited is a Canadian success story - celebrating 35 years in business without ever having lost money. Under his leadership Canada Wide has established a track record for success that is the envy of many businesses. The 16 Irrefutable Laws of Salesmanship: Follow Them and Increase Your Sales Faster and Easier
Mastering the art of salesmanship isn't about selling products, it's about building relationships with people. The most important secret in salesmanship is to understand what the other fellow wants, then help him find the best way to get it.
Peter Legge is an inspiration to anyone who meets him! He lives his life dream as an internationally acclaimed professional speaker, a bestselling author, and as Chairman & CEO of the largest, independently owned magazine publishing company in Western Canada – Canada Wide Media Limited. He is a community leader tirelessly devoting his time to many worthwhile organizations. Peter is a past Chair of the Vancouver Board of Trade.

His presentations are based on his everyday experiences as a community leader, husband, father and CEO. Peter has published fourteen books including "The Runway of Life", "Make Your Life a Masterpiece", "The Power of Tact", "The Power to Soar Higher" and most recently "The Power of a Dream." His books have motivated thousands of people towards positive change.

Toastmasters International voted Peter "Golden Gavel Award Winner" and "Top Speaker in North America" and both the National Speakers Association and the Canadian Association of Professional Speakers have inducted him into the Speakers Hall of Fame.

Peter is also a member of the prestigious Speakers Roundtable, an invitation-only society comprising 20 of North American's top professional speakers. Peter has received two honorary doctorate degrees from Simon Fraser University and Royal Roads University, and most recently received an honorary doctorate of technology from BCIT.

In 2005, Peter was presented with The Nido Qubein Philanthropist of the Year Award in Atlanta, Georgia. In 2006, Peter was awarded the Ambassador of Free Enterprise by Sales and Marketing Executives International in Texas. In December 2006, The Peter Legge Philanthropist of the Year Award was introduced by The Canadian Association of Professional Speakers. Peter is the first recipient of this award.

In June 2008, the province's highest award, The Order of British Columbia was presented to Peter for his life-long commitment to serving the community.
Books