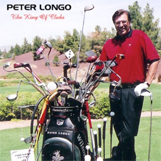 Peter Longo
PGA Trick Shot Artist, Humorist, TV Personality, Historian
X
Program Descriptions
THE EVOLUTION OF THE GOLF SWING
A light hearted walk through history, this one is filled with humor as well as rare videos of old and new professionals, fascinating comparisons, and a few live trick shots by me (soft, foam balls).
The show is one hour in length and is designed to be entertaining for golfer and non-golfer alike.
It is a delightful activity for associations and libraries, for corporate gatherings and meetings, country club events, golf leagues, junior golf programs and member-guest events.

THE KING OF CLUBS
The Peter Longo Golf Show is a quick paced, fun filled hour of golf as you have never seen it before. As a former PGA Tour player, master teacher and show business entertainer, Peter Longo will amaze and amuse your guests with his creative trick shot spectacular.
A veteran of over 2,800 exhibitions world-wide, Peter connects with any audience hitting incredible shots, joking with the guests and shaking hands with everyone.
Peter also enhances the day on the course, performing a "Beat The Pro" or other type of fun activity.
After golf, Peter is a highly skilled banquet speaker and emcee and completes the day with laughs and applause at the microphone.
Peter Longo is the world's #1 golf entertainer and a day with "The King Of Clubs" will bring fond memories all year long.

GOLF HISTORY SEMINAR
If you love golf or if you think golf is the most boring sport you've ever seen, Peter Longo's History Of Golf seminar is for you.
Peter Longo is a PGA Life member, a former PGA Tour player, a world class trick shot artist, keynote speaker, golf historian and noted humorist.
Entitled -"GOLF: A Short Course on a Long History" is packed with interesting facts, comedy and rare stories, vividly presenting the Royal and Ancient game the way you've never seen it before. Peter's talk is accompanied by his dynamic Power Point slide show full of colorful graphics, folklore and stunning photos.
Who was hung for stealing golf balls? What does the King James Bible have to do with golf? What tournament was canceled because the golf course was on fire?
It's all here with "The King Of Clubs" himself, Peter Longo, and his History of Golf presentation. Don't miss it.
Peter Longo is a PGA Life Member and former PGA Tour player. He is currently a world-class trick shot artist who has performed over 2,800 exhibitions worldwide in the past three decades.

His quick-paced show will amaze and amuse any audience, golfer and non-golfer alike. His repertoire lists over 275 trick shots, nearly four times as many as any trick shot artist in history. This high powered resume of routines has produced his handle as "The King Of Clubs".

Peter's golf show, however, is only part of what makes him the "world's #1 golf entertainer". Drawing on his show business background, Peter's rousing banquet speeches and stand-up experience have created an equal demand for his services as emcee, roastmaster and keynote speaker.

Peter Longo is a published author and featured writer for several golf publications. He has also produced three videos and two television shows of his own, Inside Golf and Off The Fairway.

In addition, Peter can be seen weekly on television, on WGN-TV's Instant Replay show and The Golf Scene, both from Chicago and Good Morning, Arizona in Phoenix, his winter home, performing golf tips spiced with his signature humor and clever twists.

Away from the exhibition tee, Peter is employed on both sides of the sports microphone, doing spot broadcasting for Mutual and the NBC radio networks.

He hosted his own radio talk show for 10 years at Phoenix sports giant KTAR and was the "official radio voice" of The PGA Tour's Phoenix Open, The LPGA's Safeway Classic and The Senior Tour's Tradition. He is a member of the Arizona Sports Media Hall Of Fame.

An accomplished teacher, Peter is internationally known as a leading authority on golf for the disabled, having authored the first handicapped golf teaching video in 1987 and the first teaching CD in 2005 on the subject. The CD, entitled Challenge Golf, is the official PGA of America disabled golf teaching program.

He is a past chairman and current member of the PGA's Committee for the Disabled. He was honored at The White House in 1989 and won the 2006 Marianjoy Par Excellence Award for achievement in the field of disabled golf.

More recently, Peter conducts golf seminars for disabled students and teaching pros all over Spain. The seminars are funded by PGA Tour star, Sergio Garcia.

Peter Longo is a contract player with Wilson Sporting Goods, Antigua Sportswear and ECCO Footwear.

He represents all three DuPage County Forest Preserve Golf Courses in Illinois, Oak Meadows (his base) in Addison, Maple Meadows in Wood Dale and Green Meadows in Darien, Illinois.

Peter's winter affiliation is The Raven Golf Club at South Mountain in Phoenix, Arizona.