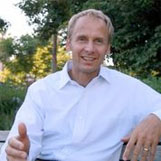 Peter Matthies
Conscious Business
Traveling From
California
X
Program Descriptions
Next Generation Leadership Principles: Keys for becoming a Great Leader Leadership in the Face of Crisis
Turning Economic Challenges into Opportunities for Growth
The 6 Signs that Predict the Future of Your Organization
Steps for Building Sustainable & Conscious Businesses
The Entrepreneur's Solution Combining Money with Meaning: The Holy Grail for Career Success Work-Life Balance
Engage! People Solutions for Future-Minded Businesses
Peter Matthies is an inspiring and moving speaker, a business consultant and leadership coach. When Peter speaks, he speaks from the heart—with warmth, authenticity and from his own experience. His unique gift to address critical and challenging topics resonates with audiences on a deep, personal level. His insights are truly transformative as he translates what's really on people's minds into simple, yet profound truths.

Peter's genuine style engages the audience emotionally and intellectually, and his words have the power to initiate lasting change. Peter has been involved in international technology and finance business for more than 16 years. He is the founder of the Conscious Business Institute (CBI) in California, which supports business leaders in growing their organizations in a more inspiring, effective and sustainable way. With over 80 years of combined experience, CBI partners have developed groundbreaking methodologies that help clients combine financial success with a sense of personal fulfillment, joy and balance.

Prior to founding the Conscious Business Institute, Peter was a Principal at Apax Partners & Co, one of the world's largest Private Equity and Venture Capital firms with over $20 billion under management. He served as Investment Manager for b-business partners, a $1 billion VC Fund with large corporate investors such as Hewlett Packard, ABB, Ericsson, and Astra Zeneca. As president of the German Venture Capital Club, Peter helped promote a corporate governance and financing environment based on integrity, mutual benefit and trust.

Peter started his career at Andersen Consulting before co-founding a systems integration and IT-consulting company. After selling his share, Peter worked as an IT analyst and US-correspondent in California, where he founded a business accelerator that focused on financing and growing German and American technology start-ups.

Peter held many speaking and panel engagements throughout Europe and the US. His views and approaches, particularly in periods of transition and distress, inspire businesses and individuals to safely embrace change.

Peter published 2 books and over 100 articles on business, finance, innovative work environments, martial arts, technology and spirituality. He is an avid Skier, Tennis player, and carries a black belt in Aikido.