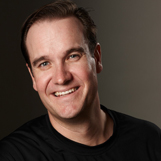 Peter Sims
Authentic Leadership and Innovation
Traveling From
California
X
Program Descriptions
Little Bets (innovation, entrepreneurship, creativity, and design)
What do Thomas Edison, Chris Rock, and Jeff Bezos all have in common?
Answer: An understanding that the biggest ideas spring forth from a series of small discoveries, reworked to achieve a great result.
Based on extensive research, including over 200 interviews with successful creators and innovators, Sims demonstrates that the kind of linear problem-solving and fear of failure we were conditioned to embrace actively thwarts creativity. Whether it's Steve Jobs or architect Frank Gehry or the 'braintrust' at Pixar, there is no complete plan or vision at the outset. Rather, through a process of trying and failing in incremental ways, they gain critical information as they go from one small, experimental step to the next — which eventually lead to extraordinary breakthroughs. These so-called "little bets" helped spark the ideas that led to companies like Twitter and blockbuster movies like the Toy Story franchise. We can learn to think and work like those we think of as geniuses — failing fast to learn quickly, trying imperfect ideas, focusing on finding problems rather than solving them, and practicing highly immersed observation—to turn our own little bets into big successes.
Little Bets + Black Sheep = This revolution will be improvised
The world is being disrupted by globalization and technology, and the traditional ways of doing things are increasingly ill-equipped to solve the problems. What will fill the gaps — in government, business, and culture? It all begins with little bets: small, affordable risks taken to discover problems, needs, and opportunities in order to find big bets. What do Apple CEO Steve Jobs, comedian Chris Rock, prize-winning architect Frank Gehry, and the story developers at Pixar films all have in common? They all rely upon a mindset of making small bets when doing something new, and they're all also "black sheep" — willing to challenge conventional wisdom and be understood, often for long periods of time, in order to invent new approaches in their own lives and for society. The world needs a creative renaissance led by courageous BLK SHP, who get sh*t done and solve problems quickly and creatively. Are you a black sheep? This revolution will be improvised.
"Black Sheep" Inspired by Brad Bird, director at Pixar who said: "Give us the black sheep. I want artists who are frustrated. I want the ones who have another way of doing things that nobody's listening to. Give us all the guys who are probably headed out the door." A lot of them were malcontents because they saw different ways of doing things, but there was little opportunity to try them, since the established way was working very, very well. We gave the black sheep a chance to prove their theories, and we changed the way a number of things are done here."
Authentic leadership (leadership and entrepreneurship)
Based on the lessons learned from 125 of the world's most-respected entrepreneurs and leaders profiled for TRUE NORTH: Discover Your Authentic Leadership, including Charles Schwab, Starbuck's founder Howard Schultz, CEO of Palm Inc. Donna Dubinsky, Jeffrey Immelt of General Electric, Xerox CEO Anne Mulcahy, Andrea Jung CEO of Avon Products, and Narayana Murthy of Infosys. Themes include: overcoming life crucibles and setbacks, clarifying personal values and motivations, developing effective support structures, using your life story to motivate and inspire others, approaches for staying grounded, and personal leadership development plans.
Why Book Peter Sims?


Peter is a highly-engaging speaker who will help you challenge the status quo and discover extraordinary new possibilities in your business and personal endeavors.
He shows you how big breakthrough ideas start with small steps rather than a concrete plan, analysis, and calculated risk.
Peter Sims is a best-selling author and entrepreneur. His latest book is Little Bets: How Breakthrough Ideas Emerge from Small Discoveries, from Simon & Schuster: Free Press, and he was the coauthor with Bill George of True North: Discover Your Authentic Leadership, the Wall Street Journal and BusinessWeek best-seller.

He has had a long collaboration with faculty at Stanford's Institute of Design (the d.school), a hub of creative thinking and doing, and received an M.B.A. from Stanford Business School where he established a popular class. Previously, he worked in venture capital with Summit Partners, where he had the opportunity to work with some of the world's most innovative entrepreneurs, including as part of the team that established Summit's European Office in London. He is also a Co-founder and Director of Fuse Corps, a social venture that will enable America's most entrepreneurial young leaders to work on year-long grassroots projects to tackle some of society's most pressing problems, such as within education, reporting directly to mayors, governors, their senior staffs.

His articles have appeared in The New York Times, The Financial Times, Harvard Business Review, Tech Crunch, strategy+business, and as an Expert blogger for Fast Company. He frequently speaks or advises at corporations, associations, and universities, including Google, Eli Lilly, Pixar, ConAgra, Cisco Systems, Current TV, Amazon, and Stanford University.

A graduate of Bowdoin College, he lives in San Francisco and some of his favorite pursuits include family, friends, music, people, learning, San Francisco Giants baseball, and laughter. And, his great-great-great grandfather, Jacob Gundlach, founded Gundlach Bundschu (GunBun) in Sonoma, California's oldest family-owned winery, which is run today by his cousins who, unlike Peter, actually know a lot about wine.
Books

Little Bets

True North