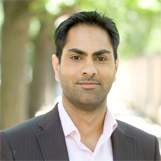 Ramit Sethi
Author on Personal Finance and Entrepreneurship
Traveling From
California
X
Program Descriptions
Dominating Your Finances in 60 Minutes
Ramit Sethi is a serial entrepreneur, speaker, and author. He has founded companies in technology, retail, and college advising, and he is currently co-authoring a book advising companies how to effectively recruit college students. He has developed a personal-finance and entrepreneurship curriculum that he has taught to over 2,500 people around the country. His Web site receives thousands of visitors per month and was recently featured in the Wall Street Journal.

With an industry focus on user experience, Sethi is a consultant to a number of companies and foundations on emerging technologies, investing, and viral marketing. He is also the Director of Special Projects for the Stanford Persuasive Technology Lab.

Sethi is a graduate of Stanford University, where he received undergraduate and graduate degrees studying technology and psychology.