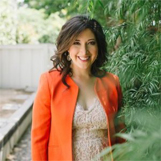 Randi Zuckerberg
Founder & CEO, Zuckerberg Media
X
Program Descriptions
Dot Complicated: What I Learned on the Front Lines of Social Media

In her business-keynote-meets-one-woman-comedy-show, Randi Zuckerberg does a deep dive into the latest, greatest, most exciting trends in technology, business, and entrepreneurship that you need to be thinking about right now. But watch out! Everything is Dot Complicated and with every great opportunity comes hidden challenges. Randi helps decode these challenges so that we can make the most of this exciting wired world we find ourselves in. And she does it all in a style that is lively, entertaining, educational, tailored to each specific audience, and uniquely Randi.
Future Consumers

Technology provides incredible new opportunities for our lives and our businesses. But it can also make us want to rip our hair out of our head with complication and confusion. In this insightful talk, Randi will give real world advice on how to make tech work for you and your business: recruiting, managing employees, marketing your business, engaging customers, and much more – in a talk that feels fun, lively, and fresh.


Women in Business

After spending a decade working in technology, Randi found herself confronting her own complicated relationship with Silicon Valley. On one hand, celebrating the innovative, entrepreneurial spirit and future-thinking disruption. But on the other hand, left wondering, "where are the women? Where are people of color?" After spending ten years getting used to being the only woman in the room, Randi has now dedicated this next chapter of her professional career to promoting, championing, and investing in women through her own media company, Zuckerberg Media. In her funny, poignant, honest, and authentic talk, she'll discuss her own experiences as a woman on the front lines of tech and her ideas on how we can all work together towards a future where the next multi-billion dollar companies are founded by women.


Why Book Randi Zuckerberg?


Founder and CEO of the media consulting firm Zuckerberg Media


Author of the New York Times bestseller Dot Complicated


Former Director of Marketing at Facebook


Host of Dot Complicated with Randi Zuckerberg, a weekly business talk radio shown SiriusXM


Active angel investor, with a portfolio that has 53% female founders and almost 30% diverse founders


Nominated for an Emmy Award in 2011 for her innovative coverage of the midterm elections, combining television and social media
Randi Zuckerberg is an entrepreneur, investor, bestselling author, and tech media personality. As an early executive at Facebook, she created Facebook Live, now available to two billion people worldwide.

After noticing that she was one of way too few women in tech, she founded Zuckerberg Media, with the mission of introducing children – especially girls and underserved communities – to tech and science in a fun way, in the hopes that the billion dollar tech companies of the future will feature more diversity.

Randi is the creator and executive producer of DOT, an animated television show on NBC Universal, CBC, Hulu, and dozens of networks worldwide, about a tech-savvy girl named DOT and her friends. She hopes DOT will give young girls a much needed techie role model.

She is also the founder of Sue's Tech Kitchen, an innovative tech-themed dining concept for families where you can enjoy 3D printed s'mores, edible selfies, cutting edge VR games, robots making you pancakes, and much more – educating families about STEM in a way that feels fun, accessible, and approachable. Sue's Tech Kitchen has now launched two locations in Tennessee and New York City – with plans to expand to ten additional cities by the end of 2018.

Randi hosts a weekly business radio show on SiriusXM and is the best selling author of three books. In her (barely) free time, she can be found at the theater. She once dreamed of singing opera at the Met at Lincoln Center – but she'll settle for her current position on Lincoln Center's board of directors. She lives in New York City with her husband and two sons.