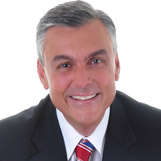 Ray Lucia
Financial Expert, Radio/TV Personality & Best Selling Author
Traveling From
California
X
Program Descriptions
Financial Strategies to Ensure Income for Life Keynote
Personal Financial Expert Panelist
Ray Lucia is not your average financial advisor. He is an accomplished money man whose intelligent input and charismatic nature has helped make him one of the nation's leading experts in the fiscal world of financial, tax, and retirement planning... not to mention he's a best-selling author, an engaging radio and TV personality, a highly sought after public speaker, and CERTIFIED FINANCIAL PLANNER™ practitioner.

After teaching at a San Diego high school after college, Ray shifted his focus to pursue a career in financial services, as a better means to provide for his growing family. Early in their marriage, Ray and Jeanne, his wife of nearly 40 years, had four children in four years. Ray was also moonlighting in a rock and roll band, while transitioning from teacher to financial advisor.

Throughout his career in the financial services industry, Ray Lucia, CFP® has made it his lifework to help thousands invest for retirement utilizing his renowned Buckets of Money® retirement strategy. His dynamic public speaking skills enable him to cover an array of monetary topics including: asset allocation, social security, pensions, investments, annuities, insurance and taxes.

Ray is largely recognized for his nationally syndicated radio show, "The Ray Lucia Show", aired daily from 12:00-3:00 pm Eastern Time in most of the country's top radio markets. Ray and his "Brain Trust" field questions from live callers who have real money issues. Furthermore, Ray is also a TV personality who is featured nationally on networks such as FOX News Channel, FOX Business, CNBC, NBC's The Today Show, and Bloomberg.