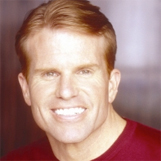 Rich Fettke
Success Coach and ESPN X-Games Competitor
Traveling From
California
X
Program Descriptions
Take The Leap!
Imagine freefalling at over 120 miles an hour…5,000 feet above the earth…and you can't find your ripcord! That's the first true adventure Rich brings you on in this hour full of inspiration, laughter and education. The message? To develop yourself and to improve your performance you must be willing to get out of your comfort zone. But you don't have to jump out of an airplane to push your limits. It might be making that important sales call or going after that big, exciting goal!

Getting & Staying Focused: Keys to Clarity and Achievement
High achievers know how to focus on what really matters. In this information-packed interactive session — based on Rich's audiobook, FOCUS — your participants will learn an extremely effective system to gain clarity and stay on track with their most important goals.

The Courage for Change!
Would you like to thrive on change and create ongoing success? Rich uses his background as a former CEO, master certified coach, and record-holding bungee jumper as he explains how to turn resistance and fear into action and achievement. In this inspiring session, you will see how the acronym F-E-A-R can help you remember Rich's four proven steps: Focus… Explore… Assess… Respond. This simple, yet extremely effective process will help you succeed in today's rapidly changing business world.
Rich Fettke has helped thousands of executives, entrepreneurs and salespeople push their limits and expand their success without struggle. He is the author of EXTREME SUCCESS (Simon & Schuster) and the audio program FOCUS: A Guide to Clarity & Achievement.

Rich has been featured in numerous magazines and newspapers including USA Today, the Wall Street Journal, Self and Entrepreneur Magazine. He has also been a guest on every major TV network and on dozens of radio shows including NPR, SPN and the Dr. Laura Show. Rich's diverse clientele includes IBM, Prudential, Century 21, Morgan Stanley and the United States Army.

In addition to his experience as a former CEO of a large health club franchise, Rich is also an extreme sports athlete and is one of the country's top success coaches. He is past-president of the Professional & Personal Coaches Association and is a former vice president of the International Coach Federation (ICF). He also holds one of the ICF's first Master Certified Coach credentials.

Rich has over 15 years experience in business start-ups, management and training and holds a bachelor's degree in Business Management from Merrimack College in Andover, Massachusetts. He is also a graduate and former instructor of The Coaches Training Institute, the world's largest, non-profit and accredited coach training organization.

As a member of the National Speakers Association, Rich travels throughout North America to share his ideas with corporations and associations.

Rich has competed in the ESPN X-Games and is a record-holding bungee jumper, licensed skydiver, and (slightly obsessed) rock climber. He enjoys working and playing in the San Francisco Bay Area with his wife Kathy, their two daughters, Karina and Krista, and Zen, their goofy dog.