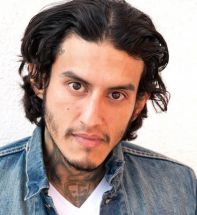 Richard Cabral
Former East Los Angeles Gang Member Turned Emmy-Nominated Actor
Richard Cabral is an American actor known for his Emmy nominated role on the series American Crime and his recurring role on the Fox action comedy-drama TV series Lethal Weapon.

Richard Cabral grew up in East Los Angeles in a second-generation Mexican-American family. He became active in gang activity from an early age. He overcame drugs, prison and a life of violent crime with the help of Homeboy Industries, a gang-intervention program based in Los Angeles. He is now a successful actor.

In 2009, Cabral appeared in the television show Southland. In 2010, he appeared in the music video for Bruno Mars' single "Grenade"