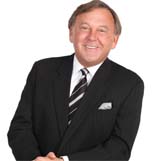 Richard Weylman
Elevating Business Performance
X
Program Descriptions
How to Communicate Your Value to Gain the Competitive Edge
Being "different" is not enough to stand out in the marketplace. Today's buyer engages based upon the distinctive value they perceive you offer. Based on his current CEO Read's bestseller, The Power of Why – Breaking Out in a Competitive Marketplace, Richard demonstrates how prospects define value. Most importantly, he provides innovative strategies and proven tactics to communicate your value to gain the competitive edge. Every sales, marketing professional and business leader will understand the value they bring to the marketplace and be able to communicate the unique advantages their products or services deliver from the buyer's perspective.

Specifically, this keynote presentation addresses:
How do you currently answer the question, WHY should I do business with YOU?
The importance of having the right answer so that you can tell "Your Story."
How to position yourself and your practice so qualified people see the value and want to engage.
Closing the value gap so your recommendations resonate as the solution they seek.
Communicating the emotional value of your offerings so pricing pressures are significantly reduced.

Delivering an Elevated Experience that Creates Positive Word of Mouth
Good service is no longer good enough. In a demand economy, people want an elevated experience and it is a key part of how customers and prospects assess and determine value. No longer is it enough to be transactionally efficient, every team member, regardless of their role, needs to deliver an elevated experience to set themselves and the organization apart from all others. The key components that consumers express when asked what constitutes an elevated experience and the actionable tactics to execute are detailed.

Specifically, this keynote presentation addresses:
Why great or even personal service is no longer enough to retain their business.
How a customer or prospect's overall experience is an integral part of their perception of real and perceived value.
Why an elevated experience illustrates a relational approach over a transactional approach.
How the delivery of an elevated experience becomes a clear point of distinction from others in the marketplace.
How to elevate your customers experience and create emotional chemistry, stronger relationships, repeat business, and brand advocacy.

Discover Hidden Markets to Find Profitable Growth
This presentation, for sales and marketing professionals and leaders, speaks to the empirical research that 87% of individuals belong to some organization that supports what they do for a living, recreation or their special interest. Consequently, Richard delivers specific strategies and prescriptive tactics they can use to uncover hidden opportunities to target and acquire more of the right customers.

Specifically, this keynote presentation addresses:
How 87% of individuals network and communicate with one another and why it matters.
Why your current customer base is full of leverageable markets and networks that are just waiting to be uncovered.
How to clearly identify and uncover those hidden markets and networks and move forward.
The most effective ways to be highly visible and a "go to" resource in your chosen markets.
How to leverage your best customer relationships to gain a steady flow of targeted, warm introductions to the right prospects, not just some random referrals.
How to improve your social prospecting skills with the exact words that enable you to confidentially move from "meeting people" to "meeting with people."
How to proactively execute and make the changes that will move you into growth.

Successfully Leading Your Team into The Future
Leading today's multi-generational workforce – while increasing productivity, profitability and improving the customer experience – are just a few of the issues facing every leader. Whether you are CEO, president, department head, or sales team leader, these issues require a clear organizational vison and comprehensive communication skills that connect with each generation. It also requires leaders to focus the efforts of their entire organization on becoming purpose driven to serve the external customer.

Specifically, this keynote presentation addresses:
The clarity of organizational vision to ensure every team member, regardless of their role, is working with a true sense of purpose to fulfill it.
Key insight and actionable steps to communicate more effectively with today's team members.
Proven steps needed to craft an employee-driven, customer-centric culture.
A clear process for all leaders to assess how they currently lead and where they can improve.
Richard Weylman is considered one of the leading authorities on marketing innovation and understanding the customer perspective. He delivers proven methodologies to create marketplace distinction, effectively communicate the value of offerings and elevate the customer experience. Christopher Forbes, vice chairman of Forbes Media refers to his work as "brilliant".

Richard has worked in tough markets and with unique products – from his earliest days selling cookware to building an award-winning Rolls Royce dealership. He was also the initial head of Sales and Marketing for The Robb Report, an internationally known magazine, which now enjoys global distribution. Although he is longer affiliated with those firms, he currently is Chairman and Managing Partner of his own award-winning international consulting firm ( 5 locations worldwide) which works with companies in a wide variety of market sectors to elevate their business performance in today's marketplace.

He is the author of three books, including his latest the CEO Reads best-seller The Power of Why; Breaking Out in a Competitive Marketplace, as well as the international best-seller Opening Closed Doors; Keys to Reaching Hard to Reach People. In addition, Richard's extensive writings are often featured on WSJ online, FORBES, Fund fire, Gama News Journal to name a few.

Professionally, Richard is the recipient of the Direct Sales Partnership award as well as a recognized GAMA Gold Resource Partner for the difference he is making in these organizations' member firms. Weylman has achieved the highest earned designation of Certified Speaking Professional (CSP) and has received the Council of Peers Award of Excellence (CPAE). He has also been inducted into the Professional Speaker Hall of Fame, an award given to experts who speak, for their platform excellence.

Personally, Richard has been nominated for the Horatio Alger award for his philanthropy and desire to give back. An orphan at the age of six, he lived in 19 foster homes. His perseverance and success, despite a seemingly stacked deck, inspires people to make the right decisions to overcome their circumstances. As a recognized business expert, Richard has a gifted understanding of customer behavior and his innovative strategies help individuals elevate their business success.