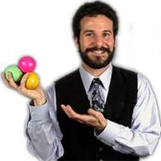 Rob Peck
Defying Convention & Gravity
Traveling From
Massachusetts
X
Program Descriptions
KEEPING ALL THE BALLS IN THE AIR (How To Cope With Constant Change… And Still Stay Sane!)
To truly excel, leaders and teams have to juggle more multiple responsibilities than ever. When people are coping with constant change, nurturing a good sense of humor is a vital stress management skill. (One that gives the brain the equivalent of a built in shock absorber!) Managers who know how to handle adversity with a sense of humor model a resiliency that rubs off. By stepping back and seeing the big picture, they're able to respond to volatility by viewing problems through a wide-angle lens in a way that decreases burnout, and fosters a culture of excellence. Facing challenges with humor heightens our capacity to envision ourselves in another's shoes. Both of which strengthen our ability to respond to problems with "Plan B's" that result in more creative solutions and more loyal customers.



Juggling For Attention! (The Art of Focused Communication)

Busy managers are increasingly challenged to juggle multiple responsibilities. Leaders and teams keep their balance in turbulent times, by constantly upgrading their abilities to focus on the key elements of a conversation. This training gives participants an object lesson on how to use creativity and humor to improve communication, energize teamwork, and build deep bonds of loyalty.



Laugh & Learn… and Think Long Term (How High Morale Helps Organizations Retain… Rather Than Constantly Retrain)

Busy professionals are increasingly challenged to juggle multiple responsibilities. Leaders keep their balance in turbulent times, by constantly upgrading their abilities to focus on the key elements of a conversation, and listen empathetically. Good communication is vital for good morale, and both bring out people's best in tough times. Leaders who know how to respond creatively to unforeseen challenges model a resiliency that rubs off. Communication that accentuates the positive fosters a can-do spirit that empowers people to tackle difficult problems and come up with innovative solutions.



BE MY GUEST (Stellar Sales & Customer Service….with Less Stress and More Zest!)
Outstanding customer service builds a well of good will. Success hinges on paying close attention, keeping a positive attitude, and earning trust via the 3C's: Concentration, Coordination, and Cultivation. When we concentrate on what a customer is saying we build their confidence in us. When we coordinate our words and actions in service of the customer's best interests, we earn their trust. When we help them find a solution at a fair price, we cultivate their loyalty and earn their referrals. This training teaches Sales teams how to use the 3C's to ensure a culture of stellar customer service- that combines a spirit of fun, with a sense of purpose.
Rob Peck is an active member of both the New England Speakers Association and the National Speakers Association. However, his highly original approach to keynote speaking is largely the result of a rather unique educational background. After graduating the University Of Pennsylvania (Phi Beta Kappa) and doing post-graduate studies at Harvard and The Sorbonne University in Paris, France, Rob went on to do advanced training at the Antic Arts Academy in Canton, Me. (founded by 4 former Ringling Brothers Clown College "professors" including MacArthur Genius Grant recipient Michael Moschen).
A recipient of the International Jugglers Association's Excellence in Education award, Rob's moving presentations defy convention and gravity. From Harvard to Hewlett Packard, his customized speeches and seminars have raised morale, reinvigorated commitment, and reinforced the power of collaborative problem solving. Highlights of his 40 year career include a long running one man show, commissioned by and performed at the Smithsonian Institute, feature slots on cable and network television programs such as Donahue, Evening Magazine, CNBC and Amazing America. Rob is the C.E.A. (Creative Education Advocate) of ZESTWORKS- a speaking, training and consulting firm whose core mission is to make content come alive by linking lessons with laughter. Rob's guiding principle is that high spirits mean low attrition. His unique and innovative keynotes like "Keeping All The Balls In The Air" or "Laugh & Learn, Think Long Term" combine enduring truths with mesmerizing circus skills, and inspire participants to substantively improve inter-departmental communication by reframing the question "How smart are you?" to "How are you smart?"
When he is not on the platform, Rob regularly conducts in-house creativity seminars, designs stress management training programs, facilitates retreats, and has served as a spirit in the workplace consultant for numerous companies and institutions. ZESTWORK's team-building trainings, like "Playing For Keeps" or "All Work & No Play.... NO WAY!!" let leaders and staff experience first hand how humor can help companies retain, rather than constantly retrain, key personnel. From Harvard to Hewlett Packard, ZESTWORKS' creatively customized programs have sparked the fresh thinking and fertile collaborations that help leaders and teams stay focused, stay flexible, and stay together in a high trust winning organization.
As a speaker, trainer or consultant, Rob Peck's literal and figurative understanding of "juggling" has helped thousands of multi-tasking professionals rediscover a life-balance, which frees them to have less stress and more zest at work.... and at home.
Books

It's A Juggle Out There