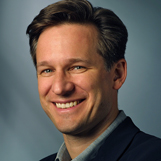 Robert Tercek
Keynote Speaker, Innovation Expert, Creative Strategist
Traveling From
California
X
Program Descriptions
INVENTING THE FUTURE: THRIVING IN A WORLD OF CONSTANT CHANGE
Today, massive change is a permanent feature of the business landscape. Mature businesses are under pressure to evolve rapidly, and new startup ventures face a throng of global competitors. In this popular keynote speech which is constantly updated with new information and examples, Robert Tercek shares five proven strategies for identifying opportunity in a chaos field, motivating a team to unite around an inspiring vision and how to execute what was previously unimagined.

Tercek explains that it is no longer sufficient to respond to change: every leader must anticipate change, seek it out, understand the dynamics that propel it, and seize control and drive change. The best way to thrive in the future is to take an active role in its creation and evolution. Throughout his career, Robert Tercek has invented the future, and he can teach your team how to do it, too.

THE ACTIVATED AUDIENCE: HOW TO MASTER PARTICIPATORY MEDIA
The most significant change in our era is the shift in control from producers to consumers. Every company must now contend with an audience that is empowered to speak up, organize, and take action.

Is the activated audience a threat or an opportunity? For Rob Tercek, it is an enormous opportunity. In this keynote speech, Tercek explains how to harness the immense power of participation to build stronger connections to key audience segments. Drawing from his experience as the producer of the highly successful online multiplayer games and the largest live seminars ever produced, Tercek reveals the keys to motivating audience engagement by providing roles and tools that direct willing participants towards constructive and purposeful interaction. Every organization that deals with end users will benefit from mastering these lessons.

THE RISE OF THE NEW ECOSYSTEM: THE BLUEPRINT FOR CONTROL OF THE INFORMATION ECONOMY
The profound disruption now underway in broadcast media reveals a startling truth: information is no longer subject to the old rules of the industrial economy.

The collapse of Old Media is just a prelude to the massive transformation that will affect every mature business from the industrial era.

An entirely new ecosystem for value creation is emerging to replace the old industrial model of markets and channels: it is dominated by companies that control the flow of data. Business leaders need a clear view of the road ahead in order to make the right strategic decisions. This talk provides a framework for strategic decision-making: the blueprint of the new information ecosystem. This speech offers startling insight into the dynamics that will affect any company that deals with information-rich products and services.

THE VANISHING POINT: THE VIRTUALIZATION OF MODERN LIFE AND WHAT TO DO ABOUT IT.
We are in the midst of a vast cultural change as products, businesses and even entire industries are vaporized. The transition from physical goods to virtual services is disorienting. Record shops, newspapers, travel agents, even dating have gone virtual. And many more businesses will soon follow down the rabbit hole, re-emerging as an app or a web service. Whole chunks of the consumer economy have turned into software that runs on an invisible network. Meanwhile, we're spending more of our waking time in these virtual environments every day.

Everyone has experienced this change, but few people know how to contend with it. Innovation expert Robert Tercek has the solution. In his talk "The Vanishing Point" he explains the hidden technology driving the great change, the economic impact, and he reveals the strategy for navigating this transition successfully.
Robert Tercek is one of the world's most prolific creators of interactive content. He has created breakthrough entertainment experiences on every digital platform, including satellite television, game consoles, broadband Internet, interactive television and mobile networks. His expertise spans television, telecommunications and software.

In 2009, he was named one of the "25 Executives to Watch" by Digital Media Wire. Variety has named him one of the "Digital Dozen" most influential players in new media. The Industry Standard dubbed him a "TV Anarchist".

His 22-year career is marked by achievements which include several milestones: the first multichannel television service in Asia (STAR TV in 1991); the first multiplayer Java games on the Web (Sony, 1997); the first interactive game shows on US Television (Sony, 1999); the world's first streaming video service on mobile phones (PacketVideo and NTT DoCoMo's V-Live, 2001); the largest audience for live interactive video events on the web (Oprah Winfrey's 2009 web casts); the most popular free book download in history (Suze Orman on Oprah.com, 2009).

Tercek has served in executive leadership roles at major media companies, most recently as President of Digital Media at OWN: The Oprah Winfrey Network, and previously as Senior Vice President of Digital Media at Sony Pictures Entertainment and earlier as Creative Director at MTV: Music Television. He also co-founded five startup ventures, including 7th Level, Inc which went public in 1993.

Mr Tercek has provided strategic insight and advice to many companies seeking to enter the networked entertainment market, including: Nokia, Motorola, AMD, MSN, Sony Computer Entertainment, Taito, Bandai Networks, Siegel and Gale, CMP Media Group, VNU Media Group, and The Anthony Robbins Companies. He has served as an advisor to several successful startups, including BrightCove, Sulake Labs/Habbo Hotel, M.Metrics (acquired by Comscore), MediaCode/Muse.net (acquired by Yahoo) and NevenVision (acquired by Google).

He has supervised new media strategy and the creation of online programs for many of the world's leading motivational speakers and authors, including Anthony Robbins, Oprah Winfrey, Suze Orman, Dr Mehmet Oz, Elizabeth Lesser, Jean Chatsky, David Bach, Marcus Buckingham, Deepak Chopra, Debbie Ford, and Martha Beck.

His entertainment credits include some of the most successful interactive titles on digital platforms, including Oprah Winfrey's Live Your Best Life live web casts, Jeopardy Online and Wheel of Fortune Online, the bestselling Monty Python CD ROM series, and award-winning mobile content based on media brands from CBS Sports, World Poker Tour, Marvel Entertainment, 20thCentury Fox, Warner Bros, Paramount Pictures, Hasbro, Activision and many more.

To design interactive products, Mr Tercek draws upon his broad experience as a television director, game designer, artist, and educator.

An enthusiastic advocate of the future of media and entertainment, Mr Tercek is a highly in-demand speaker. He has been a featured speaker at NAB, CES,GDC, MIPTV, MILIA, E3 Expo, Sundance Film Festival, South By Southwest, X Media Lab, 5D New Television, Tokyo Game Fair, the Austin Game Conference, 3GSM, KidScreen Summit, MIT's Future of Entertainmentsummit, CTIA, The Future of Television Summit, The Mobile Games Seminar, The New York Games and Mobile Conference, and many private corporate events. In 2001 he founded the Game Developer Conference's Mobile Symposium.

He serves as an adjunct professor and lecturer at the University of Southern California's School of Cinema-Television, where he introduced the curriculum for interactive media, and served on the faculty of the Peter Stark Producers program. He has been a guest lecturer at several universities and colleges in the US and abroad. In 1985 he was awarded a Fulbright Teaching Fellowship in Kiel, Germany.

In 2008, he was named a Fellow of the Royal Society for the Arts in recognition of his achievements in social media for the benefit of society.

He is a voting member of the Academy of Television Arts and Sciences, and contributed to the founding of the Interactive Media Peer Group at ATAS.

He has lived and worked throughout Europe, Asia and the Americas. He currently lives in Los Angeles.