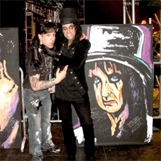 Rock Demarco
Rock Art Live, Performance Artist
Paint dances mid-air to high-energy music as performance/painter Rock Demarco transforms blank canvases into incredible works of art live on stage. Audiences watch as his lovely assistants tear brushes off his custom jacket and dance around the image. Rock also can create any celebrity portrait such as the Blues Brothers who pop out from behind the completed canvas to perform a live song and dance show.

Some of the venues where Rock has performed his concerts include the Hard Rock and House of Blues. His client lists includes IBM, Exxon, Microsoft and hundreds more.

Rock Demarco kick started his career as a small child by plastering graffiti on his parent's walls with crayon. Never a fan of mild mannered art, Rock instead takes his audience on a wild ride of imagination by challenging them to look at the world through a different window. His award winning work can be seen from his home of Winter Park Florida all the way across the globe to the airport terminal of San Juan Puerto Rico. Rock's work has sold for 10's of thousands of dollars raising money for various charities and special events.