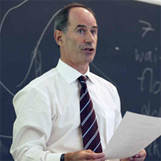 Roger Martin
Dean, Rotman School of Management
Traveling From
Ontario, Canada
X
Program Descriptions
Playing to Win: How Strategy Really Works
Roger Martin is devoted to helping senior management teams improve how they frame and make strategy choices. They often find themselves struggling to determine what choices really need to be tackled to advance the cause of their organizations. And when they tackle whatever choices they think important, they tend to struggle to make the choices and even more to see those choices convert to action. As a result, there is perceived to be a crisis of "implementation" in organizations. Martin sees the problem as one of how strategic choices are made. In this talk, he explains how strategy is at its heart about generating answers to five key questions He also shares his process of Strategic Choice Structuring, designed to help management teams focus on high-value choices, making inspired choices, and making them in a way that leads to productive action. It is a process used by major companies like Procter & Gamble, Hewlett-Packard, Lego, Steelcase and VF Corporation.

Integrative Thinking
In this keynote, Roger Martin shows how successful businesspeople engage in what he calls Integrative Thinking. Rather than choose an unsatisfying solution from the options available, they creatively resolve the tension of opposing models by forming an entirely new and superior one. He provides examples from the game changing decisions of successful leaders including P&G's AG Lafley, Four Seasons' Isadore Sharp, and Red Hat's Bob Young. He shows that Integrative Thinking is a learnable skill and teaches a practical process for audience members to get on the learning journey. 


Fixing the Game: What Capitalism Can Learn from the NFL
In this keynote, Roger Martin reveals the culprit behind the sorry state of American capitalism: our deep and abiding commitment to the idea that that stock-based compensation is the best vehicle for producing both corporate success and shareholder value maximization. This theory has led to a massive growth in stock-based compensation for executives and, through this, to a naive and wrongheaded linking of the real market—the business of designing, making, and selling products and services—with the expectations market—the business of trading stocks, options, and complex derivatives. Using the National Football League as an alternative model, Martin illustrates that it is possible to take a much more thoughtful and effective approach than we now do to seize American capitalism from the jaws of the expectations market and plant it firmly in the real market—and he presents the steps we must take now to do so.

The Design of Business: Why Design Thinking is the Next Competitive Advantage
In this keynote, Martin explains why the dissatisfaction with the pace and level of innovation is so widespread in the modern organization. When he asks audiences if they are satisfied with innovation in their organizations, the positive responses range from nil to a maximum of 10% of any audience. The reason is the modern managerial practices inadvertently strangle innovation by favoring reliability – the production of a consistent, replicable outcome – over validity – the production of a desirable outcome. He explains and illustrates the antidote: Design Thinking, which balances analytical thinking and intuitive thinking to both produce an initial competitive advantage but also regenerate that advantage for lasting success.
Roger Martin is Premier's Chair in Productivity & Competitiveness and Academic Director of the Martin Prosperity Institute at the Rotman School of Management. From 1998 to 2013, he served as Dean. Previously, he spent 13 years as a Director of Monitor Company, a global strategy consulting firm based in Cambridge, Massachusetts, where he served as co-head of the firm for two years.

His research work is in Integrative Thinking, Business Design, Strategy, Corporate Social Responsibility and Country Competitiveness. He writes extensively and is a regular contributor to: Harvard Business Review's The Conversation blog, the Financial Times' Judgment Call column, and Washington Post's On Leadership blog. He has written fifteen Harvard Business Review articles and published eight books: Playing to Win (with A.G. Lafley) (Harvard Business Review Press (HBRP), 2013), Fixing the Game (HBRP, 2011), The Design of Business (HBRP, 2009); The Opposable Mind (HBRP, 2007); The Responsibility Virus (Basic Books, 2002); Canada: What It Is, What It Can Be (with Jim Milway, Rotman-UTP Publishing, 2012); and Diaminds (with Mihnea Moldoveanu, University of Toronto Press, 2009), and The Future of the MBA (with Mihnea Moldoveanu, Oxford University Press, 2008). In addition, he co-edited Rotman on Design (with Karen Christensen, Rotman-UTP Publishing, 2013). In 2013, Roger placed 3rd on the Thinkers50 list, a biannual ranking of the most influential global business thinkers, moving up from 6th in 2011 and 32nd in 2009. In 2013, he placed behind only Clay Christensen and Chan Kim. In 2010, he was named one of the 27 most influential designers in the world by Business Week. In 2007 he was named a Business Week 'B-School All-Star' for being one of the 10 most influential business professors in the world. Business Week also named him one of seven 'Innovation Gurus' in 2005.

He serves on a number of public service boards: Skoll Foundation, Canadian Credit Management Foundation, Tennis Canada (past chair), and Ontario Task Force on Competitiveness, Productivity and Economic Progress (chair).

A Canadian from Wallenstein, Ontario, Roger received his AB from Harvard College, with a concentration in Economics, in 1979 and his MBA from the Harvard Business School in 1981
Books

The Opposable Mind