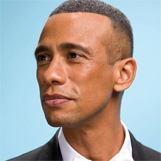 Ron Butler
President Barack Obama Impersonator
Traveling From
California
Ron Butler is the premiere Obama impersonator, and has appeared as the President on national TV, radio, promotional functions, and corporate events. He is an LA-based actor with a huge list of film, television, and theater credits. His consummate abilities as a performer combined with his natural resemblance to the president (in both manner and look) make him the quintessential Obama impersonator.

Ron started working regularly as an actor in 1990. In addition to impersonating the president, he currently appears regularly on a Nickelodeon family sit-com.

Ron began impersonating Barack Obama in early 2007, before the President had announced his candidacy. In addition to looking like Obama, he is a trained improv performer, and writes comic sketches and song parodies. He is available for personal appearances and photo-ops, and can also provide customized comedy, speeches, and presentations.