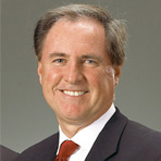 Ron Foxcroft
Inventor of the Fox40 Pealess Whistle, Former Basketball Referee
Traveling From
Ontario, Canada
X
Program Descriptions
Building A Winning Team
Ron's shares his formula to create and coach a winning corporate team, lead by example the only way to know your team is to be one of them.

Secrets to Success
How do you make a pea-less whistle the best in world? How do you become a remembered slogan in transportation? How do you successfully downsizing in a tough economy?

The Six Keys to Building & Leading Successful Enterprises
Ron explains the 6 keys in addition to the ingredients in helping people in leadership positions to become successful.

Never Stopping When The Whistle Blows
All about overcoming adversity, in order to have the greatest success you must tackle the greatest challenges. Gain Ron's experience on how to fight criticism in order to succeed.

Risk It. Today's Management Style
You only succeed by taking a strategic risk. The greater the risk the greater the reward, learn when to say no, learn when to say I don't know. The science of downsizing.

Performing At The Best Of Your Ability; Overcoming Challenges
Ron's business culture encourages open discussions with his teammates to identify their profound strengths and weakness. Strategize how to highlight their strengths and improve their weakness.

The Inside Edge On Exporting and International Trade
There is a secret to exporting from North America, quality, service and consistently improving the integrity of your brand is just the start, listen to Ron explain his secrets to successfully exporting and maintaining price integrity.

Communication Skills For A Winning Game
When hiring employees it is important to learn how to recognize people with exceptional communication skills. Control is not leadership, managing your team to create exceptional results is leadership. Listen to Ron's strategy on how to recruit people with people skills.


Ron Foxcroft helps companies win against the odds, build trust, commitment and the bottom line. Audiences learn how to achieve their goals, surpass, the challenge, and turn their passion into performance.

Ron has a street-wise perspective on business. Born to a working class family in Canada, this self-made millionaire has cultivated an extensive following among some of the most highly respected and influential business leaders across North America.. He offers audiences practical ideas that work and profitable bottom-line results.

When Ron speaks, he speaks from experience with warmth and humor. He not only inspires audiences to achieve their highest aspiration and objectives, he empowers them with strategies and techniques for accomplishing their desired results. He shares business insights and awe inspired stories from his pre-retirement referee days.

"The Fox," as he's commonly known, had an impressive 35 year career as the NCAA's only Canadian Basketball Referee. He officiated over 1,600 international basketball games in over 30 countries, including the Gold Medal basketball game in the 1976 Montreal Olympics. In addition, he was the only Canadian Basketball Appointee of the Board of the Canadian Olympic Association.

Ron's honors include being Hamilton Ontario's 1997 Distinguished Citizen of the Year; Stony Creek, Ontario's 1991 "Citizen of he Year"; being inducted into the Canadian Basketball Hall of Fame (1999); the International Association of Approved Basketball Officials Lifetime Hall of Fame (2000); the Ontario Basketball Hall of Fame (2002); and an Honorary Doctor of Laws Degree from McMaster University (2001).

He is currently President of Fluke Transport & Warehousing. His relentless commitment to on-time service is why Fluke is the industry leader. "If it's on time… it's a Fluke" is more than a slogan-it's a guarantee.

What is it about Ron Foxcroft that gets audiences excited? It's simple. He reaches people – from the company executives to the front-line workers. He gets his point across "with the blow of a whistle" – so people can hear it, grasp it, remember it, and use it.