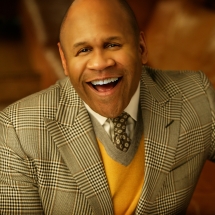 Rondell Sheridan
Stand-Up Comedian, Co-Star of Disney's That's So Raven and Cory In The House
Traveling From
California
X
Program Descriptions
Presenting Rondell Sheridan
If You Want Potato Chips, go to Where They Make the Potato Chips
Why Book Rondell Sheridan?
A recognizable face for anyone who with access to the Disney Channel or late night television, Sheridan is a top comedic talent and a charming individual who will entertain any audience.
With the unusual ability to transform ordinary occurrences into hilarious and hearty tales, Rondell Sheridan is one of the great stand-up comedians of this generation. Sheridan disarms his audiences with a wholesome ease, reassuring them with a mixture of playful physicality, facial expressions and a gift for easily shifting through comedic gears and personas.

Sheridan's career has thrived on live stand-up and television. He is one of the most poplar comedians of the past two decades and has appeared on "The Tonight Show" with both Jay Leno and Johnny Carson, "Late Night with Conan O'Brien", "Politically Incorrect", several Showtime Specials, . He is also well known for having a reocurring role in "Corey In The House" and playing Raven Simone's dad on the hit show, "That's So Raven", which was the highest rated show on the Disney Channel.
Born and raised on the South side of Chicago, Sheridan attended Marquette University in Milwaukee as an Interpersonal Communications major with a minor in Advertising. After college, he charmed his way into an audition with the prestigious New York acting school Circle in the Square. With raw talent and a little good fortune, the novice actor was accepted to the program. He spent one year at the school honing his acting skills before moving on to perform in repertory work, regional theater and off-Broadway productions.
He has co-hosted/hosted talk shows like "Men are from Mars, Women are from Venus", "That's Funny", and "Show Me the Funny". His current CD a 'Banana and a Gun' is still on the charts, and his latest tour is "If you're over 40 and you know it, clap your hands!" This show is a non stop celebration of life, love and laughter. Sheridan, a master storyteller, transforms personal observations into hilarious routines about his life. He'll have you laughing at yourself more than you know.

Rondell's educational background in Communications and Marketing positions him as an excellent choice for the corporate talent buyer. Rondell not only delivers a knockout performance of clean and hilarious comedy, he also has the ability to act as a comedic host. Combining sharp wit and a friendly demeanor, Rondell Sheridan will make sure your event is an unequivocal success!