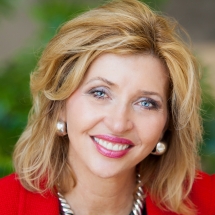 Roxanne Emmerich
Expert in Revitalizing People's Passion for Work
X
Program Descriptions
Thank God It's Monday™
How to Build a Motivating Workplace
Based on her best-selling business book by the same name, this presentation by Roxanne is all about your employees and your workplace.
Specifically, are your people bringing all of their passion, commitment, skills and enthusiasm to the workplace everyday? Do you need a way to bring together your fragmented teams to work for one larger vision? Are dysfunctional viruses such as whining, gossip, and sabotage contaminating the spirit of winning you want to create? Roxanne also explains why almost every business is 'dead wrong' with their approach to motivating employees!

Profit-Growth Essentials
How to Master the 7 Breakthrough Strategies of Top-Performing Businesses
Did you ever get the feeling there's a better way to skin this cat? While researching her new book, Profit-Growth Banking: How to Master 7 Breakthrough Strategies of Top-Performing Banks, Roxanne Emmerich discovered that the differences in strategy between the top performers and the rest of the herd in any business venture are profound.

Profound Transformations
How to Radically Transform Your Company for More Profit-Rich Growth
Some people insist that it takes two years to "transform a culture." Roxanne Emmerich says, "Only if you say so!"
If you're ready to witness a miracle before your very eyes, know that it is possible. Roxanne has seen it happen after a one-day program; hundreds of companies have doubled their service scores within 30 days. And almost as many have seen sales growth increases from 30 percent to well over 100 percent.
The real miracle is seeing how these organizations have become alive and passionate places to work, with focused energy and iron-clad systems for integrating strategy, marketing, sales, and service (we know this doesn't sound possible-but it is.)
Why Book Roxanne Emmerich?
Roxanne Emmerich went from poverty—growing up on a dairy farm to now advising many of the top-performing CEOs and entrepreneurs in the world today. She has been recognized by the National Speakers Association as a Speaker Hall of Fame inductee. In addition, she was an Entrepreneur of the Year recipient by the age of 30. She loves to help organizations and their leaders get unstuck and choose an even more profitable and powerful course in a timeframe that CEOs and entrepreneurs regularly refer to as a "miracle."
Roxanne Emmerich, three-time Entrepreneur of the Year award recipient and CEO of The Emmerich Group takes organizations to a level of performance they never dreamed possible. Through her Kick-Butt Kick-Off® program, Roxanne has helped hundreds of companies double their customer service scores within six weeks, and double and triple profits within one to two years.

Author of The New York Times, Wall Street Journal, and Amazon #1 bestseller, Thank God It's Monday®!, Roxanne was recognized by Sales and Marketing Management magazine as one of the 12 most requested speakers in the nation.

Roxanne was inducted into the National Speakers Association Hall of Fame, was singled out by the University of Wisconsin as their Distinguished Alumna, and recently received the Nido Qubein Philanthropist of the Year Award.

While some of her companies said they had more growth in the next 30 days than in the previous 10 years combined after her "Kick-Butt Kick-Off®, many have moved from the bottom half of their industry to the number one performance slots in their states.

She is the founder of Permission to Be Extraordinary® Summit—a life and performance transforming event for top executives and owners and Thank God It's Monday U—a multimillion dollar learning, communication and accountability platform that teaches high-performance business processes and mindsets—the template you've been looking for.

Most importantly, no two speeches are ever the same—she customizes each program based on the specific breakthrough needs of that audience.