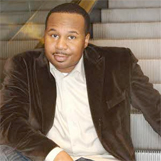 Roy Wood Jr.
Stand Up Comedian
Traveling From
California
Hailing from Birmingham, Alabama, Roy Wood started his comedy career in 1999 at the age of 19 while attending Flordia A&M University. Roy's comedy crosses all races and cultural lines which has allowed Roy to work with an array of comedians ranging from D.L. Hughley, Ron White, Monique, Tommy Davidson, Bill Engvall, and Sheryl Underwood. This same versatility also give him the ability to perform in clubs as well as numerous colleges and universities across the country.

In 2002, Roy earned a slot as one of ten national finalists in Comedy Central's Laugh Riots competition in Los Angeles. In March 2003, Roy was selected for Star Search on CBS where he advanced to the semi-finals. He has also appeared on It's Showtime at the Apollo, Live in Hollywood and the 2005 season of Comedy Central's Premium Blend and BET's Comic View.

Roy has recorded two nationally released prank call CD's. 2003's My Momma Made Me Wear This and 2005's Confessions of a High School Bench Warmer. His third release entitled I'll Slap You to Sleep! for Image Entertainment is a collection of new prank phone calls and recorded stand up. Roy's prank calls are heard on over 35 broadcast stations across the country and 10 Internet stations.

Roy appeared at the 2006 Montreal Just for Laughs Comedy Festival in the "New Faces Showcase" where critics awarded him top honors. The Hollywood Reporter called Roy a "standout" among all the New Faces of 2006. The Montreal Gazette said "Roy Wood Jr. gives tremendous show" taking "the top spot". In November 2006 he performed at the Las Vegas Comedy Festival.

Last year Roy appeared on the Bob and Tom Radio Show: The Comedy Tour a one hour special which aired on Comedy Central in September. Roy made his network television debut on Late Night with David Letterman and most recently appeared on The Late, Late Show with Craig Ferguson
.