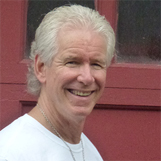 Russell and Lin Jones
Achieve Incredible Things by Breaking Through Your Limitations
Traveling From
New Jersey
X
Program Descriptions
The Power Workshop
In this one-hour presentation, Russel and Lin Jones will help your group harness the power of pure motivation to enhance personal performance for three major sectors of society.
Russell Jones is a speaker with an honest and uplifting message of hope and inspiration for kids and their caregivers. Through the trials and tribulations of raising four children of his own, alongside Lin, his wife and business partner of 30+ years, he's learned techniques for equipping kids to have a positive impact by making informed decisions.

With his entertaining Family Events and their Top Secrets of Success... 4Kids book, Russell aims to encourage families to expand their mindset of what is possible.

Not Just a Strong Man
On the surface, you'd think Russell gets his energy from his lifelong commitment to becoming a world-class strength athlete. But, what primarily fuels him is stories of overcoming adversity, witnessing children have a positive impact on others, his loving marriage, and discovering how his actions have motivated changes. Russell sees life as an adventure to experience and strives to find all the ways he can protect and care for those he loves. While the power demonstrations may entertain and WOW, his witty stories will likely cause you to laugh, cry, and be kickstarted into new perspective.

The Light at the End of the Tunnel Isn't a Train Coming at You
Russell and Lin certainly didn't start their foray into parenthood as know-it-alls, nor do they even consider themselves masters today. The devastating loss of their child in a car accident was the turning point to making a conscious choice to figure out how they could be the best parents they could possibly be. They humbly learned from both experts and their own successes and failures and now share their deep experience on what has worked well for them. To create the consistency kids need to weather any storms, Russell and Lin came up with anchor points for raising their family and can spark you to identify your own anchors. Their kids trusted that they weren't just making up their parenting style to fit the demands of any given day.

Gaining Reinforcements
When not actively opening up families to techniques required to meet today's tough challenges and advocate in the education process, Russell and Lin enjoy spending time with their now grown children and their extended inner circle. Active in their church, they've always strived to surround their family with people who would inclusively reinforce their values and help build their wisdom and character. Gaining more through giving, they also volunteer their time and portion of their net profits to Push the Rock, a nonprofit organization with the goal to be the global leader in sports ministry.