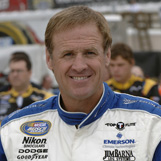 Rusty Wallace
Nascar Driver
Traveling From
North Carolina
Renowned NASCAR driver Rusty Wallace, who climbed out of his No. 2 Miller Lite Dodge for the last time at the end of the 2005 Nextel Cup Series season, was named lead auto racing analyst for ESPN and ABC Sports in December 2005.

Wallace, the 1989 NASCAR champion, is the ESPN and ABC lead NASCAR NEXTEL Cup and Busch Series analyst. In 2006, he reported on the Chase for the NEXTEL Cup for SportsCenter, and was an analyst for the IRL IndyCar Series program, including the Indianapolis 500.

Additionally, Wallace, whose 25-year career included 55 Cup wins, serves as analyst for ESPN2's daily motor sports series.

Wallace, whose 706th career start ended his 2005 season-long "Last Call" tour in the No. 2 Dodge, fell just 28 laps short of leading 20,000 laps in his career. The 1984 Rookie-of-the-Year ended his 22nd consecutive full-time NEXTEL/Winston Cup season eighth in the standings, the 17th time he finished in the top 10. A former NASCAR Premier Series champion, Wallace ranks as one of the top-five money winners in NASCAR history, with nearly $50 million in career earnings.

In 1991, Wallace helped form Penske Racing South with Roger Penske and Don Miller, as the legendary Penske name returned to NASCAR after an 11-year absence. Wallace sold his interest when he retired in 2005. In 1998, NASCAR named him one of its 50 greatest drivers of all time.

In his last year on the NASCAR circuit, every race facility honored Wallace and nine race facilities currently on the NASCAR schedule offered permanent dedications. More than a dozen state, city, and county seats of government declared race day as officially recognized Rusty Wallace Day. In addition, bestowed upon Wallace were Deleware's Order of the First State and North Carolina's Order of the Long Leaf Pine, the highest civilian honors possible in those states.

Wallace is owner of RWI Racing, a NASCAR Busch Series team featuring the No. 66 HomeLife Communities car driven by his son, Steve Wallace.

Wallace, who is married with three children, enjoys relaxing on the golf course and piloting his Learjet 31A. He owns six car dealerships in Tennessee.