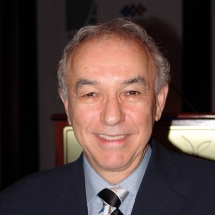 Sam Geist
Expert in Stimulating Corporate Energy
Traveling From
Ontario, Canada
X
Program Descriptions
"FRONTLINE = BOTTOMLINE" -- Strategies to Manage Talent
This program recognizes that employees can be a company's biggest asset or its greatest liability. Which they are depends if they are producers, fence-sitters or rocks. This program helps to identify employees in each category and assist management increase the percentage of producers since they are the organization's most powerful weapon in today's and tomorrow's marketplace.

Why Should Someone Do Business with You…Rather Than Someone Else?
This fast paced program focuses on strategies to increase your effectiveness in vital business areas. It challenges participants by asking tough questions, since questioning inspires thought, answering motivates action. It provides the wherewithal to recognize and maximize: your resources, the effects of environmental trends and every day opportunities and challenges.

Execute…Or Be Executed
This program helps participants take what they already know and act upon it. It assists them develop a personal step-by-step approach that enables them to implement their strategies successfully into their everyday work lives. This program outlines the execution process, emphasizing all the perspectives that effect execution: the customer, the organization, the distribution channel, the people, and technology.

Would You Work for You?
This program encourages you to blend together the art and science of leadership with its psychology—enabling you to motivate, to inspire and to ensure your staff take ownership of their roles and responsibilities while you are effective in your role.

If I Hear Customer Service One More Time, I'll…
This program provides you with invaluable insights to distinguish your staff and your organization from everyone else in the marketplace. It outlines a new perspective with which to view service. It discusses innovative tools to turn your newfound knowledge into action—to turn intangibles into tangibles.

Look Out! Here Comes Tomorrow
Marketplace concerns and demands, business trends and the implications of today's technologies are outlined, as are techniques for successfully managing change, finding a differentiated stance, and developing a future-focused plan.

Differentiate…Or Die
Transitional times negate the "business as usual" approach. They offer the perfect opportunity to adopt a bold plan, to take a firm stand to differentiate yourself and your organization from the competition. This program enables you to discover your unique point of difference and how you can capitalize on it in a marketplace blinded by overexposure.

You Pay Bills With Dollars…Not Percentages
This program highlights GMROI, outlines its benefits, and provides hands-on instruction in its calculation and application to specific categories. Whether you are a veteran or a rookie, use it to assist you identify and evaluate whether the desired gross margin is being earned by your inventory.

Meeting the Challenge of Goliath
This program highlights aggressive, light-footed maneuvers that will magnify your opportunities and augment your clout in today's increasingly competitive environment. It outlines the guiding principles and operating strategies of the giant retailers like Wal-Mart —discussing techniques to assist you find and exploit differentiation to become one of "the fast" companies… one of the marketplace leaders.
Sam Geist for over 13 years, has worked as a professional speaker, consultant and facilitator for companies and associations across North and South America and Europe.

His "ideas" programs are not just sizzle, they offer substance-they include tangible solutions. They provide a wealth of information and the impetus to act on it. Sam informs. He stimulates. He re-focuses participants. He provides actionable strategies for the obstacles faced by so many of today's organizations.

Before each presentation he conducts industry-related and company-specific research, including distributing his "What Hurts" questionnaire to program organizers. The information he receives enables him to customize his presentations and handout material to the interests and concerns of participants and organizers.

By program's end, participants have so much more than "just stuff" to think about. They have the ammunition, know-how & incentive to prepare a viable action plan... and DO IT!

As a facilitator during discussions and brainstorming workshops, he uses the Socratic method to encourage participants to think about their business in new ways, to adopt different vantage points for decision making than they held before-in order to change, to improve, to grow.

He insists that asking tough questions-and answering them honestly is crucial to the well being of every organization.

Utilizing his years of experience in both the retail industry and the marketing arena, Sam Geist is able to prepare and present a variety of customized programs including advertising workshops, merchandising sessions and operations how-to presentations.

Sam also has extensive experience consulting to companies involved in restructuring.

Sam will assist to capitalize your resources and use your knowledge more profitably than you ever did before.

To create a hard copy of his ideas, suggestions and how-to's, Sam has written two fact-filled business books. Why Should Someone Do Business With You...Rather Than Someone Else? explores new perspectives and differentiating strategies to get and keep customers, to increase staff productivity and to enhance business profitability. Would You Work For You encourages leaders to look at themselves in the mirror and be accountable for who they see. It clearly differentiates a leader from a boss, offering them the tools to maximize their potential to be a better leader - a better person.

Sam maintains offices in Toronto, Ontario Canada and Naples, Florida USA.