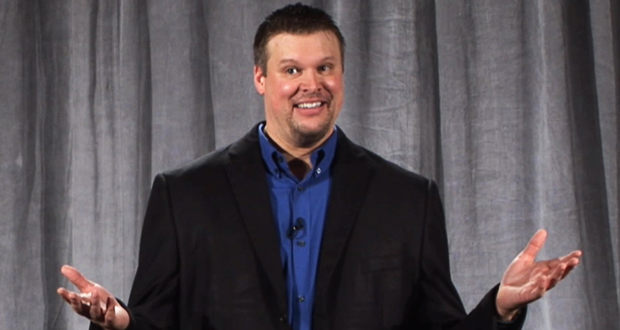 Sam Glenn
The Chalk Man, Art of Achieving Success
X
Program Descriptions
What Attitude is Driving Your Bus?
So, the big question is: How much does attitude impact the workplace and life? When a doctor diagnoses a patient with cancer, that doctor knows that the required treatment will only be 10% what the hospital does. The balance of the treatment will be 90% of the person's attitude. This is just one eye opening example just how relevant and important attitude really is. What is the driving motivation behind how we serve others? What drives how we lead others? What translates into measurable results and positive contributions? The answer is one word: ATTITUDE. Attitude is the greatest asset, and likewise the largest liability of any organization. It all starts with how an organization appraises attitude in the workplace. The next big question would be: What are the consequences of a generally dull attitude operating in the workplace and how do you fix it?
Attitude is what creates and drives workplace culture. It determines how we grow in times of never ending change. It drives new ideas into reality. It is how we adjust to new technologies, requirements and guidelines. Sam Glenn, who has become one of the most notable kick off and closing speakers at conferences all over America, brings a refreshing perspective on why we need to recharge our attitudes and why organizations who have a high appraisal of attitude just keeping getting better, doing better and achieving the best results.
A Kick in the Attitude (An Attitude Re-Charge!)
Our attitude is a lot like a battery and sometimes it loses it's positive charge. Sam not only puts that positive spark into everyone's attitude, but shows how to maintain that positive spark in the midst of adversity and the things that drain us. Sam discusses how we make attitude a choice everyday and that our attitude is either in the way or making a way and we determine which everyday.

Have you ever noticed that sometimes people (audiences) get a little bit of an attitude when they find out there is going to be a speaker on attitude? It's ok, Sam loves when that happens. Sam has won over what many would consider the toughest audiences with up-lifting attitude recharge. By the time this session is over, everyone will have a new appraisal for the true value of attitude and how it pertains to life and work.

Sam's simple philosophy is that it all starts with attitude: Success, Teamwork, Customer Service, Sales, Leadership, Personal/Professional Development, Winning, and Relationships.

This program is designed to rekindle your organization's enthusiasm. More than just having a positive attitude, Sam discusses ways to put the right attitude into action and how doing so will achieve the best results. While we cannot control what goes on around us, we can control our perceptions, responses and actions, which ultimately form our attitude. In this side-splitting humorous program Sam shares his seven attitude lessons that will transform your organization.


You can also modify the title of this talk to Attitude Re-Charge!

Who Put a Lizard in My Lasagna
(Using your best to achieve the best of what you want.) What started out as a practical joke turned into be one of the most impacting life lessons acquired by Sam Glenn. This speech is about "you" discovering your unique gifts and using them to create and construct the best of what you want in life. Sam also highlights how to use a positive attitude mixed with our unique gifts to make a valuable contribution in life and the workplace.

Every day, we choose the face of our attitude and give it away through the experiences we create for others: customers, co-workers, strangers, associates, employees, family, and friends. This program highlights how to use your attitude to connect with others and creates a meaningful gift that makes others feel remarkable, recognized and valued. If you are in the business of creating positive experience for customers and making a difference, this presentation is all about using your gifts and a positive attitude to make a positive impact.

Keep Moving Forward!
(Embracing Change & Navigating Through Organizational Change)

Let's face it, change is happening all around us and we all know that change can be very difficult for people to navigate. So how do you and your team manage change? How can you cope?

When Sam Glenn speaks about change, he uses the analogy of being on a small sailboat in the middle of a storm. Change is tossing us around and we need to adjust our sails to stay afloat.

As Sam tells us "we can adjust our sail and get out of the storm. We can overcome, adapt and embrace change in positive ways!" Sam uses funny anecdotal stories and a simple formula to help you and your associates deal with change.

You will develop tools for overcoming changes, challenges, the unexpected, and negative people. Sam introduces his essential navigational tools to help your organization make it through the storm of uncertain change and new change. You'll learn how to move forward when change happens and avoid getting trapped by negativity.

Lead to Engage
Creating a Culture of Engagement with Attitude

Employee engagement is about harnessing potential, passion and setting it in motion to create performance. Employee engagement is not just the latest buzz, but a supportive process that moves a workforce in the direction of the organization's goals. Without constant attention to employee engagement, apathy chips away at employee morale, forcing an organization to spend valuable time and resources to fix what could have been prevented instead of moving forward.

Sam is an engagement expert who understands first-hand how to connect and tap into the 
potential of people to lead them to perform their best every day. Sam will share his research, knowledge and insights on how to connect, lead and inspire others to become more engaged.

Leadership Starts With Attitude
Great leaders recognize that success starts with attitude. Not only does attitude fuel our ability to think creatively amidst challenges and influence positive change—but attitude also serves as the strongest element in engaging our workforce. Want to create a more positive workplace culture that trickles down to your frontline employees and even the customers they touch? It starts with you. Regardless of the change or challenges your organization may be facing, great leaders know that they still hold the opportunity to empower their employees beyond the circumstances.

Leaders who model the right attitude with the right actions discover that others will duplicate those efforts in their daily lives. Sam Glenn—who has led a successful business for the past 15 years through harnessing the power of attitude—shares simple yet practical ideas on how to build your "leadership attitude," while using it to overcome adversity and make a positive impact in your organization.

Entertainment -Inspirational Chalk Art Performance
Capture the attention and hearts of your group with Sam Glenn's Inspirational Chalk Art Performance. This is a multi-media presentation with music and lights while he draws on a large canvas using art as a metaphor for his core messages. After the chalk art reveal, Sam will share an entertaining inspirational message that relates to the picture and that ties into your theme and reinforces your message. Expect to laugh, be inspired and leave with a memorable moment.

Sam Offers (Two) Drawing Options as Part of the Inspirational Chalk Art Performance:

The Lighthouse
Core Message: Sometimes our light (attitude) gets burned out, and we need to rekindle that light so we can be at our best.

The Path…Peaks and Valleys
Core Message: Life is a journey filled with peaks and valleys, and we have to remember that every day is a gift and that our attitude determines our path.

Sam's message of hope and positivity also gives folks valuable takeaways they can immediately apply—no matter who they are or what they do. Sam customizes his message to fit the theme and needs of your event. So as you preview our videos, keep in mind that those events were customized to fit the needs of those particular groups. And when you hire Sam, your keynote speech will be tailored to meet the needs of your organization and brand!
Why Book Sam Glenn?


Sam has worked with hundreds of organizations on training and development, peak performance, employee motivation, staff development, and leadership training, with the purpose of creating a positive tone.
His core message is that life is a journey filled with peaks and valleys, and we have to remember that every day is a gift and that our attitude determines our path.
"It All Starts With Attitude!" Says Sam Glenn - The Attitude Guy If anyone knows how to recharge positivity, recognize employee efforts, and ignite innovation and fun, it's Sam Glenn. Sam is a nationally-known speaker, author, and winner of multiple awards like Best Speaker of the Year and Most Outstanding Motivational Training Video. But Sam insists that he is just a regular guy who understands the importance of recognizing, rewarding, and recharging people for personal and professional success. Sam is also no stranger to adversity. Having lost a very successful business due to fire, Sam became negative, broke, depressed, jobless, and homeless. Sam's negative and toxic attitude poisoned his employment, relationships, and health—until he got what he calls "A Kick in the Attitude." Now, more than 16 years later, Sam still has the same fire and passion on the topic of attitude. Sam has a simple philosophy: "When people get better, the organization will get better—and it all starts with attitude." Sam currently resides in Indianapolis with his wife and daughter. If you need a positive pick me up, hundreds visit Sam's website daily to watch one of his videos to laugh and get an attitude adjustment.
Books

A Kick in the Attitude