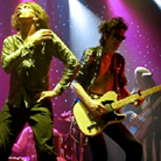 Satisfaction Stones Experience
Next Best Thing to the Rolling Stones
X
Program Descriptions
Satisfaction… A Rolling Stones Experience
Satisfaction… A Rolling Stones Experience is the international touring tribute show to the World's Greatest Rock and Roll Band. Now in its fifth year of production, the show recently wrapped up a successful four month run in Las Vegas at the Imperial Palace before they return to the road in spring 2006. Highly acclaimed and authentic as the likes of Mick Jagger and company, they bring a colorful performance to 40 years of classic hits.

From the streets of London in 1962 to the stages around the world in 2002 and 2003, it's the words concert goers long to hear... "Ladies and gentlemen...the Rolling Stones." To celebrate the legends, we welcome you to the home of the USA's #1 touring tribute show to the world's greatest rock and roll band. Thousands of audiences in over 40 states have witnessed this recreation with the highest regard of authenticity. And now you are invited to take a step inside the Voodoo Lounge and let's spend the night together...pleased to meet you!

Ladies and Gentlemen…the Rolling Stones are coming to town! Well…almost…let's just say the next best thing to "The World's Greatest Rock-n-Roll Band" is an exciting 40th Anniversary tribute show entitled "Satisfaction…a Rolling Stones Experience." This full scale production complete with the look-a-likes of Mick Jagger and company comes to your event to make it the most special ever!

Forty years of classic hits are performed with the energy of an actual Stones concert performance. The show also includes an acoustic set of popular hits such as "Angie" and "Wild Horses." Lead vocalist, Chris LeGrand, who portrays the flamboyant Jagger role states "this show appeals to Stone's fans of the past and present". "All the big hits are here" he adds. "Honky Tonk Women," "Start Me Up," and of course the band's signature classic "(I Can't Get No) Satisfaction."

Formed in the winter of 2000 in Shreveport, La., Satisfaction's goal was to bring a realistic Stones show to audiences throughout the USA. National touring quickly brought the show fan and media acclaim in newspapers, magazines and television across the country. Performing shows at fairs, festivals and casinos with such headliners as Ratt, Joan Jett, Starship, Sammy Hagar, Lynryd Skynryd, Jackal, Nazareth, Foghat and more solidified the show's national status. This show has also become a major draw on the college circuit performing for some of the top universities in the country.

"Satisfaction/A Rolling Stones Experience" is not endorsed by or affiliated with The Rolling Stones.