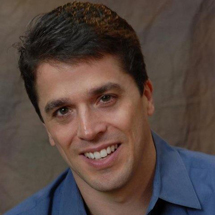 Scott Chesney
Surviving & Thriving in the Face of Adversity
Traveling From
New Jersey
X
Program Descriptions
Keynote: Surviving & Thriving the Waves of Change
The dynamics of our world are changing faster than the speed of light - and the velocity, complexity and unpredictability of this change is almost staggering, particularly in this very difficult business climate. Now and in the future, success will require a true mind shift for every individual and organization. BUT, change is inherently unsettling for almost everyone --- and it is threatening on several different levels. This dynamic presentation will address:
The elements of change that never change
Overcoming the toughest kinds of resistance
Embracing change with enthusiasm, humility and humor
Leading the change process with in uence and impact
Harnessing change as an opportunity for both business and personal transformation

Keynote: The Power in Adversity
Let's face it; life isn't easy today for anyone. Everyone faces adversity at some point in their lives. When it happens, you can become overwhelmed by it, and even get angry. Or, you can put your problems in perspective and view them merely as obstacles and challenges to rise above. After this life-altering presentation, you'll be able to:
End the blame game for yourself and others
Take personal responsibility for your life and career success
Overcome obstacles from the outside world and internal, self-imposed limitations
Tap into your achievement mindset of attitude, persistence and resilience
Reframe "failures" as fuel for useful feedback, innovation and growth

Keynote: Becoming a Courageous Leader
The human destiny of an individual is lined with personal growth and self-awareness. This journey connects us with many opportunities to emerge as traditional leaders, both professional and personal. However, as life moves at a faster pace than ever before, busier than every before, and what appears to be a more complex world than ever before, it is vital that a new type of leader evolves...a Courageous Leader. Each and every one of us has the ability and the potential to awaken the Courageous Leader within us and with Scott as your tour guide during this highly engaging and content-rich program, you will be able to:
Master the "Art of Presence" while leveraging the past and preparing for the future.
Identify and release your excuses for avoiding leadership opportunities in the past.
Model the behavior and tactics of other Courageous Leaders around you and in this world.
Unleash greater levels of communication, collaboration, teamwork, and creativity towards bigger goals and bigger results.
Deepen and strengthen existing relationships and create new and empowering relationships.
At the age of fifteen Scott Chesney had a spinal stroke that left him paralyzed. It would have been understandable if Scott spent the rest of his life lamenting his misfortune. Instead, he opted to focus on his abilities rather than his disabilities.

Today, Scott is widely recognized as one of the top motivational speakers in the world. He has spoken to over one million people in 38 di erent countries. His clients include many Fortune 500 corporations, associations, hospitals and rehabilitation centers, as well as the United Nations, the Pentagon and the FBI! Scott is also a Professional Life Coach to hundreds of individuals and business executives, demonstrating through word and deed, how anyone can overcome adversity and develop positive approaches to life, work and success.

As an expert in human motivation, Scott shares proven strategies and techniques combined with stories of courage and perseverance from his own life and the lives of others he has met around the world to connect with his audiences on the deepest of levels. He is truly a transformational speaker.