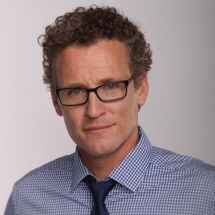 Scott Christopher
The Levity Effect Guy
X
Program Descriptions
The Anxiety Solution: Helping employees be more calm, clearheaded and focused
Few leaders worry about how to alleviate it, but anxiety is crippling the performance of the people we manage - especially younger employees. It's affecting producitivity, leading to ghosting and burnout.
When the Wall Street Journal covered the epidemic, the first expert featurned was New York Times bestselling author ADRIAN GOSTICK. In their keynotes and workshops, Gostick and coauthor SCOTT CHRISTOPHER offer tactics for managers to help their employees deal with anxiety at work. They help managers better perceive when employees are hiding anxiety and offer solutions to alleviate much of the unhealthy stress their people may have without losing productivity and performance.
The Levity Effffect: How successful people and organizations use fun, humor and 'lightening up' to achieve remarkable results.

The Daily Carrot Principle: Simple but powerful employee recognition that aligns with business strategies and pushes performance.

People People: Communication, Authenticity, Respect, Enjoyment. Building a culture of people who CARE.

Tweaks: Minor adjustments at work and at home that produce major results.
The Seven Ups of Happiness
Scott Christopher is author of the best-selling People People: Who They Are, Why They Win and How To Become One; The Levity Effect: Why It Pays to Lighten Up, and contributing author of The Daily Carrot Principle and A Carrot A Day.
He has appeared on NBC's Today Show, Fox Business Channel, CNBC, National Public Radio, BBC and has been quoted in the New York Times, Washington Post, Boston Globe, New York Post, Newsweek, Economist magazine, Ladies Home Journal and many other publications.
As VP of Speaking and Training at The Culture Works and a consultant on strengthening work culture with recognition and fun, Scott has circled the globe entertaining and motivating thousands of audiences from senior leader retreats to all-staff meetings. Applicable to all audiences in any industry, Scott's unforgettable messages and off-the-cuff humor illustrate firsthand how levity, humor and becoming a 'people person' enrich lives at work and at home.
In his rare spare time, Scott is a television host, emcee and actor (SAG), appearing on network television series Granite Flats, Everwood, Touched by an Angel and in Disney Channel movies.
Scott has a Master's in HR Management from the University of Connecticut and while an undergraduate at Brigham Young University, Scott was honored with the United States' most prestigious acting scholarship, the Irene Ryan Award, at the Kennedy Center in Washington, D.C.
Books