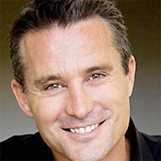 Simon Mainwaring
Creative Director & Social Media Consultant
X
Program Descriptions
How brands use social media to build their business, profits and positive impact.
Today's marketplace is being transformed by the impact of social technology and media that are reinventing business models, profit centers and customer service. Yet this same challenge represents an incredible opportunity to build profits and positive impact. To do this brands must clearly define their purpose, core values and story in a community-facing way that will resonate on an emotional level with their customers and inspire them to share that story using social media channels.

Simon explains exactly how companies achieve this and what tools, tactics, and strategies best enable them to architect a customer community that will build their business with them. He reveals step-by-step how brands build on the best practices and case studies of the world smartest marketers to create and maintain a competitive advantage using emerging social technology. It is through this powerful marriage of purposeful brand storytelling and social media fluency that brands not only connect with today's customers, but also inspire them to use social media to raise brand awareness, profits and have a positive impact in our world.

The future of social business, branding and consumer engagement.
Social technologies are reinventing the way brands market, engage their customers and build brand awareness. Simon reveals the key economic drivers, consumer insights and social technologies that will determine the business leaders of our future. Simon demystifies how brands use multi-channel social marketing to become effective storytellers, community architects and profitable agents of change. He explains how companies re-organize leadership, employees and customer service to best position themselves for success ahead of their competitors. The topic is not just critical to brands seeking to profit from the social business marketplace but also seeking to retain their advantage over the long-term. 


How the private sector uses social technology to scale social change.
In the face of a tough economy, fast-changing social media and multiple global social crises, Simon provides a vision for a re-purposed private sector that makes sustainable and scalable social change possible. He lays out a roadmap for how the private sector serves as a third pillar of social change to aid government and philanthropy.

This vision has three key components that include a partnership between brands and consumers aligned around shared values and connected by social media, the exercise of contributory consumption across retail, mobile, online, credit card and virtual goods transactions, and the establishment of a federation of brands called the Global Brand Initiative that brings the best of the private sector to bear on the social change space. In doing so, Simon explains how companies create a better world and offers practical and actionable steps that allow brands to play a meaningful role in customers' lives so they reward them with loyalty, goodwill and profits.

Strategic storytelling and the humanity of your brand
As marketers find themselves communicating within an intimately connected and mutually dependent global community, they are quickly rising to the new challenge of becoming more meaningful and relevant to the lives of media-savvy customers. As a result, we are witnessing a global "brand grab" for ownership of the fundamental properties of being human. Whether it's Coke and 'Happiness', Starbucks and 'Shared' or IBM and 'Smarter', such strategic positioning and storytelling empowers companies to be both local and global, to scale intimacy and to leverage social and mobile tools in ways that allow them to keep in contact with their customers. The challenge is how you define, frame and share your brand story to establish a competitive advantage and inspire employees and customers to build your business with you at a local and global level.

The Art and Architecture of Customer Community Building
While many companies and their marketers are very familiar with the tactics and tools of social marketing, few understand the architecture of effective community building that drives long and short-term profits. It's this architecture that ensures companies enjoy reputation and tactical benefits and inspires consumers to promote a company with them. It's this architecture that will determine which brands survive and thrive in an increasingly connected, real-time and consumer activist marketplace.

Integration of sustainability, cause marketing and foundation efforts
As a function of the hierarchical structure of many corporations, their purposeful efforts are fractured across different divisions and marketing roles. This robs the companies of reputation benefits and splinters the brand messaging making the marketing spend less effective and diluting consumer loyalty and goodwill. Properly aligned, these disparate efforts can reinforce the brand's for-profit narrative and be seamlessly integrated to reflect the core values of the brand. This process is critical for companies seeking to build brand affinity and get bottom line benefits for their social impact work.
Simon Mainwaring is the founder of We First, the leading social branding firm that provides consulting and training to help companies tell the story of the good they do to build their reputation, profits and social impact.

He is a member of the Sustainable Brands Advisory Board, the Advisory Board of the Center for Public Diplomacy at the USC Annenberg School, the Transformational Leadership Council and a Fellow of the Royal Society of Arts in London. He contributes to Fast Company, Forbes, Huffington Post, Mashable, and GOOD Magazine on branding and social technology.

Simon's first book, We First: How brands and consumers use social media to build a better world (Palgrave Macmillan) is a New York Times, Wall Street Journal, and Amazon bestseller. It was named an Amazon Top Ten Business Book for 2011, 800CEORead Top Five Marketing Book for 2011, and strategy+business named it the Best Business Marketing Book of 2011. It has been translated into Russian, Chinese, Taiwanese and Korean.

Simon was included in Trust Across America's, "Top 100 Thought Leaders in Trustworthy Business Behavior for 2012." He has been featured in Advertising Age, Adweek, Huffington Post, Inc. Magazine, Fast Company, GOOD Magazine, and Mashable, as well as appearing on the NBC, CBS, CBC, Business News Network, BNet, Business RockStars and Harpo Radio.

Simon is a sought after international speaker with keynote engagements including the Cannes International Advertising Festival, Royal Society of Arts, SXSW, National Press Club, TEDxSF, National Speakers Association, as well as brands such as Google, Coca-Cola, General Motors, Gucci, Patagonia, First Data, and Nextel. He was voted a Top 5 Marketing Speaker for 2012 and 2013 by Speaking.com.

Prior to starting We First, Simon was an award-winning Nike creative writer at Wieden & Kennedy and worldwide creative director for Motorola at Ogilvy, as well as consulting on dozens of Fortune 500 brands for leading advertising, production, and digital companies.

As writer or creative director, he worked on the U.S. launch of all generations of the Toyota Prius, the largest national service campaign for the Entertainment Industry Foundation that brought together all four major TV networks for the first time in U.S. television history, and numerous award-winning campaigns for Nike. His creative work has received over sixty international creative awards at the Cannes Advertising Festival, the One Show (U.S.), the Kelly Awards (U.S) and the British Design & Art Direction Awards, among others.

Simon studied Law and Fine Arts (1st Class Honors) at St. Paul's College, Sydney University, and lives in Los Angeles.
Books

We First